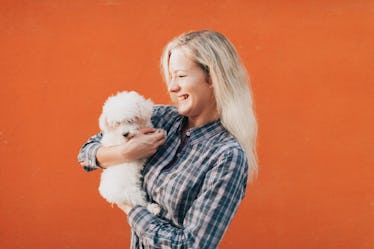 The Kind Of Puppy You Should Bring Into Your Life, Based On Your Zodiac Sign
HEX./Stocksy
We could all use a little puppy love in the New Year. From cuddling with cute corgis to hiking with a husky, dogs are truly the perfect companions for all the adventures to come. Sure, we might not all be dog people. I, myself, am a huge fan of napping with my new kitten. But, even the cat ladies among us will agree that nobody makes a better bestie than a perfect pup. You might be having trouble finding your new fluffy friend, so here's the kind of dog to get this year, based on your zodiac sign.
Like any relationship or dating scenario, you want to make sure you're compatible with your new cutie. If you love the outdoors, then something small might not be the way to go. If you're creative and want a pooch you can share all over social media, then you might the kind who has a little more personality. (Although, let's be honest, Instagram could always use more dogs.) Think of Grumpy Cat, Doug the Pug, or all those adorable hedgehogs who have more followers than we ever will.
Truth is, the year has just begun, and there should always be a little room in your budget for a pet. Pets are known to be great company, and add a lot of value to our lives. Whether you adopt a rescue from a shelter, or pick up a pup from a reliable breeder -- there are plenty of dogs out there waiting to be adored. Here's which one you should probably get, according to your zodiac sign.