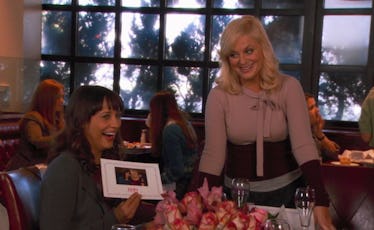 9 Fun Things You'd Only Want To Do On Galentine's Day With Your Person
You may have noticed the heart-shaped candy starting to fill up the stores, reminding us all that Valentine's Day is right around the corner. That also tells us that Galentine's Day on Feb. 13 is even sooner, and I literally can't even. It's the day we celebrate our lady friends, and how much we love them. So, leave bae at home, because this day is all about your person, aka your BFF. Leslie Knope of Parks and Recreation — who founded this day — would totally spend it with her person, Ann Perkins, doing any number of these things to do on Galentine's Day.
Your person is the PB to your J, and just as Leslie thinks Ann is a "poetic, noble land-mermaid," you think the same of your best gal pal. You love her to the moon and back, so it makes perfect sense that you would want to dedicate an entire day to how much she means to you. Your Galentine's Day can be a fun-filled experience spent doing one or all of these nine bestie activities. Every other Galentine's and Valentine's Day better step up their game, because your BFF date will be something to be jealous of, and it's all for your person.