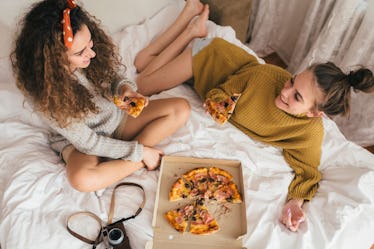 9 Single Women Reveal The Most Amazingly Underrated Parts Of Being Single
I spend an inordinate amount of time thinking about couples, writing about couples, and scrolling through pages upon pages of stock photos of couples over bags of potato chips (for work, not like, for my own personal pleasure — just so we're all clear). Combine all of that with appreciation for romantic comedies and royal weddings, and it's easy to understand why I often find myself daydreaming about Prince Charming (or just, like, a guy who can take care of the spider living on my ceiling). Then I remember all of the best parts of being single — the infinite independence, beauty of sleeping diagonally across my bed, never having to pretend I enjoy watching men play video games ever (seriously, the hours of my life I lost watching my silly ex-boyfriends play Halo) — and I snap right the heck out of that fantasy.
Now, don't get me wrong, relationships can be great. It's awesome to share your life, snacks, and Netflix account with another person, especially — nay, only if that person treats you like an absolute queen. But there's also something great about investing all of your time in, well, yourself. A fact we all too easily seem to forget, particularly while scrolling through those adorable, cuddly stock images.
If you could also use a little reminder that being single is f*cking great, just take it from these single ladies. Here are nine great reasons to celebrate your single status in your 20s.