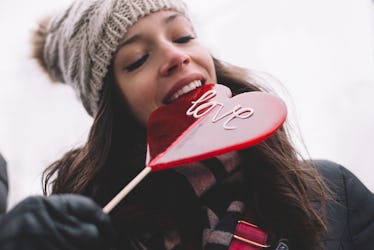 The Best Ways To Practice Self-Love This Valentine's Day, According To Experts
If Valentine's Day planning for you means finding the perfect dress, making the fanciest of fancy dinner reservations, and catering to — and only to — your S.O., you've got this holiday all wrong, honey. Listen, I get it; my husband and I are super cheese-tastic when it comes to spoiling each other on V-Day, and there is absolutely nothing wrong with celebrating the love you share for one another. But what about the love you have for yourself? On top of the date night details, you should also be figuring out how to practice self-love on Valentine's Day. It doesn't matter if you've been single, are fresh on the market, or spoken for, Feb. 14 is a day to observe love in all forms, which means showing ourselves adoration and care is something we all should be prioritizing, too.
It's really disappointing when you think about how we approach this idea of self-care, and self-love. Things like taking a lengthy bubble bath, lighting a sweet-smelling candle, or licking the frosting off a fork full of rich, decadent chocolate cake are treats we only "allow" ourselves to indulge in once a week, month, maybe even less frequently. This Valentine's Day, no matter what your relationship status, I encourage you to put self-love first by incorporating any of the following suggestions into your plans. After all, you deserve it.