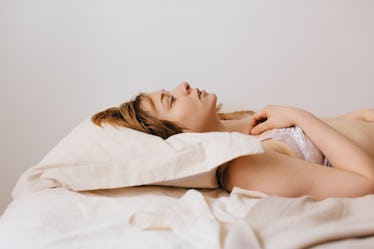 5 Reasons It's Actually Healthy To Masturbate On A Regular Basis
I wish more women talked about getting themselves off as much as men do because then we'd probably all know the answer to questions like, "Is masturbation healthy for women?" Just so you know, it is healthy for a number of reasons. But before I get into those, I'd like to point out that it's totally fine to masturbate simply because it feels good! You don't need to justify this to anyone with a thousand-word thesis on the health benefits of rubbing one out. If there were ever an apt time to quote Nike, it'd be now. Just do it.
That said, it doesn't hurt to know what other benefits you could be reaping when you tango solo. Bet you didn't know that masturbation can reduce your risks of cystitis, UTIs, and, diabetes. Yup, in the case of cervical and urinary tract infections, masturbation helps to circulate cervical fluids and flush out bacteria through a process called "tenting," which stretches the cervix when aroused. Plus, the mood-enhancing and sleep-inducing benefits of masturbation are to thank for its prevention of Type 2 diabetes.
I spoke with Dr. Tami Prince, OB-GYN and owner of Women's Health and Wellness Center of Georgia, LLC, who says those game-changers aren't the only reasons you should be masturbating regularly. It's not technically exercise (although it's possible to work up a sweat) but masturbation also offers more general, wellness benefits.