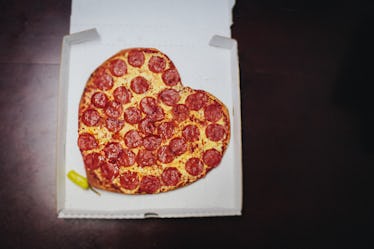 7 Valentine's Day Gifts That Are Way More Creative Than Chocolate & Teddy Bears
I'll be the first to admit that Valentine's Day is full of clichés. And yes, it has become a commercialized holiday that stresses the importance of spending money more than spending actual time with the person you love. But no one is forcing you to give your significant other a heart-shaped box of chocolate, a teddy bear, or a dozen red roses on Feb. 14. If you're looking for ideas for Valentine's Day gifts besides flowers, I get it. You want to surprise your partner with a present that's as unique as they are. Luckily, it is possible to make V-Day totally romantic without it feeling cheesy or over the top. Whether your SO is a foodie or a film buff, pick out a gift that speaks to their passions. These seven ideas are just a starting point. Purchase the one that feels right or simply use this list as inspiration for your own special present.
This Valentine's Day, skip the last-minute trip to the local drugstore (though definitely still go after the fact for half-priced candy). Plan a gift your partner will love, not just like. It doesn't matter if it's covered in hearts, red and pink, or even related to the holiday at all. If you do want to be festive, wrap your gift in Valentine's Day-themed paper or pick out an extra mushy card. Your SO will appreciate the sentiment, all while receiving a gift they'll actually want.
1. Their Favorite Album On Vinyl
If your partner has a record player, this is the perfect way to show them you care. This gift is sweet and personal — plus you two can listen to it together.
2. Custom Artwork
Order a customized piece of art that your partner wouldn't be able to get anywhere else. Scroll through Etsy for inspiration and unique artists, like this seller who paints personalized portraits of people's pets.
3. A Mantry Box
For $59, you can gift one Mantry Box to your boyf. This themed subscription box caters to the guy who loves food almost as much as he loves being a man.
4. Tickets To A Game
If your SO is into sports, surprise them with tickets to see their favorite team play. Whether or not you're a fan as well, they'll love sharing the experience with you.
5. A Professional Massage
Your partner deserves a break from the stress of work or school, so give them an excuse to relax. Purchase a gift card or pre-paid treatment at a local spa and help them ease their tension.
6. A Plant They Can Take Care Of
Instead of a bouquet that will inevitably droop, give a gift that will continue to bloom. A succulent in a pretty pot or a grow-your-own-tree kit last longer than traditional roses.
7. That Beer They Love
Does your SO have a type of beer that they really enjoy, but only splurge for on special occasions? Tell them this round is on you and treat them to a case of the good stuff.
Whether you've been together for years or you're celebrating your first Valentine's Day together, these presents are all thoughtful alternatives to traditional Valentine's Day trinkets. Your partner is sure to be impressed by your creativity and excellent gift-giving skills.
Check out the entire Gen Why series and other videos on Facebook and the Bustle app across Apple TV, Roku, and Amazon Fire TV.
Check out the "Best of Elite Daily" stream in the Bustle App for more stories just like this!