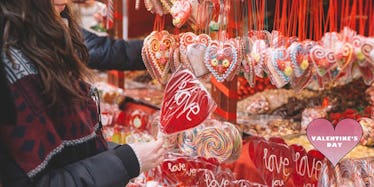 The Perfect Valentine's Day Gift Based On The Stage Your Relationship Is In
Valentine's Day is RIGHT around the corner and you know what that means... time to get your special (or not-so-special) someone something.
Elite Daily's Valentine's Day survey found that people want to celebrate this holiday with their SO anywhere from on the first date (11 percent of women, 18 percent of men) to after dating for two or more years (82 percent of women, 67 percent of men).
And with celebrating comes GIFTS.
The obvious challenge here comes in deciding what in the world to even get them. Don't worry, I've got you covered!
Whether it's your totally casual hookup buddy or your spouse of many, many years, allow me to HOOK YOU UP with some solid gift ideas.
Totally casual hookup buddies
You guys have been hooking up for long enough that it's not TOTALLY weird for you to be hanging out on Valentine's Day, but you're also trying to keep things casual... so what do you get? CONDOMS, DUH.
They say "I love having sex with you, but I still don't want to procreate with you and also am not totally certain your penis (or vagina) is clean."
THAT is the message we're trying to send here, people!
Don't get your plain, boring, average condoms. Get some fun, cool condoms to spice up your sex life.
My personal recommendation? The Trojan Pleasure Pack. For just $16 on Amazon, you can get 36 different lubricated condoms, each with their own fun, unique sensations.
Trojan Pleasure Pack, $16, Amazon 
You guys can spend all night trying out the different condoms and choosing your favorites.
Semi-serious hookup buddies
You guys are in that awkward phase where you're not exclusive, but you definitely like each other and you're pretty sure this is going somewhere.
You have to get your partner something to make sure they know you have feelings but you don't want to go overboard and come on too strong, either.
You can't go down the sexual route because you like this person, and you're trying to make sure you like them for more than just the sex.
So what do I recommend? Get something cute and small, like a Valentine's Day-themed candy.
Chocolate is boring and overdone, so I say go for something different, like Welch's Valentine's Day Fruit Snacks. You can get a 28-pack for just $4.49 (on sale right now!) and, if you're feeling particularly romantic, you can even write a little extra note on the package.
Best case scenario, you look cute and sweet for thinking of them, but also keep your cool by getting something small and non-committal.
Worst case scenario, they think you're obsessed with them and it's so creepy, but you strategically fight back by giving the rest of your 27 packs to people you know he knows, so he sees that you're just giving them to everyone and it means nothing.
WIN-WIN.
Dating "exclusively," but not in a relationship
You guys aren't in a relationship, so it's not quite time to go balls-to-the-wall with a gift. But you definitely like them a lot and want them to know how you feel about them.
In this case, I'd say your best bet is to get them a funny card like this one of Salt Bae throwing down a bunch of little hearts on Etsy for $4.
Salt Bae Card, $4, Etsy 
From there, it's up to you, depending on how much you like the person. You can pair the card with an activity like dinner or drinks, or you can leave it as just that.
Inside of it, you can keep it light with just a funny joke and a quick "Happy Valentine's Day!" or you can get more ~deep~ with your feelings for the person.
THE WOLRD'S YOUR OYSTER. Just don't sign it with "Love."
Literally JUST started dating officially
You're technically in a relationship, so OBVIOUSLY you have to get the person a gift. But things are still pretty fresh, and you don't want to come on way too strong.
You want to get something cute, simple and personal.
Dylan's Candy Bar has the PERFECT solution for you.
They have something called Katie's Magic Factory where you can type in any message or even put in any picture and they'll turn it into a gummy for your partner (prices vary depending on what you get).
Katie's Magic Factory 3D Gummy, $20, Dylan's Candy Bar 
Log on and make your partner a custom-made gummy bear with your favorite pic or a cute message.
Officially dating and in love
So the two of you aren't just "casually" dating anymore. It's pretty serious, and you really love each other.
But you don't want to go down the boring cliché road of getting them a nice necklace or watch. You want to get them something personal.
I say this is the perfect time to make some customized "love coupons" for your partner.
Make them funny! Make them sentimental! Make them sexual! Whatever you do, make sure they're totally unique to your relationship. Make them things you know your partner would love.
If you're creative, try making them yourself. If you're not, try printing them out on your printer with these easy instructions on how to make the cute ones below from Something Turquoise.
Moving in together
Needless to say, you guys are pretty serious. You're moving in together, or maybe you've already moved in together!
You've done all of the cute presents, but you don't want to be boring and buy them something like a blender or a knife set for your now shared kitchen. No, you want to get them something you can do together.
I say it's time to splurge and get your partner the ASUS E1 Projector for $269. I know it sounds like an alien spaceship, but I swear it's actually really cool.
ASUS E1 Projector, $269, Amazon 
It's essentially a pocket-sized projector you can take anywhere that attaches to your phone or laptop. What does that mean? First of all, cute cozy movie nights are possible in EVERY ROOM of your new pad.
Second, you guys can have some dope parties and play music videos for everyone on whatever wall you so please next time you have people over.
Engaged
It's not like you've been married 70 years. You don't necessarily need to spice up your sex life.
But it could be time to get your partner a fun, sexy present that you wouldn't have gotten them before.
My personal suggestion would be Lelo's "Open Secret Luxury Gift Box" for $129, complete with satin handcuffs, rose petals to lay out on the bed and even a small vibrator.
Open Secret Luxury Gift Box, $129, Lelo 
Get this for your partner and enjoy your own Fifty Shades-style night the same night that the film comes out.
Married
Between Christmas and your birthdays and your anniversary, the two of you already have plenty of opportunities to get each other sentimental gifts.
And I'm going to go ahead and guess you've gotten each other plenty of those throughout the years.
Now it's time to SPICE UP the sex life with a his and hers pleasure massager kit, like this one from LifeStyles for just $6.
A:Muse His & Hers Pleasure Massagers, $6, Target 
After years and years of just the two of you, it's time to bring a guest into the bedroom.
All right, time to get shopping!