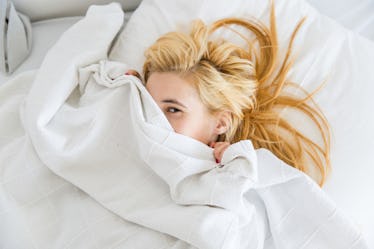 Treat Yourself To One Of These 5 Best Sex Toys For Your Next Solo Session
Your self-care needs can vary from day to day. You're not always necessarily in the mood for a Lush bubble bath and a charcoal face mask (although I've had my share of long days that called for that exact remedy). Other times, it's much more effective to reach for your best sex toys for a healthy dose of self-pleasure. Seriously — it's cheaper than a day at the spa; it's quick (if you want it to be); you don't have to leave your apartment; clothing is, of course, optional. I don't know about you but this stress-reliever checks all of my boxes, literally.
Just because you're taking matters into your own hands doesn't mean you can't use a little help from your friends. I'm talking about your collection of vibrators, dildos, and massage wands. And if you don't already have a drawer full of these, I'm here to lobby on their behalf.
Sex toys aren't just for couples' play. They can be incredibly useful when it comes to discovering your own body and exploring new kinks without the social awkwardness of having another person around. It's basically the sexual awakening you've been waiting for to make you more confident in bed and more sure about what you want and like. You know that mantra about not being able to love someone else until you love yourself? Well, it's sort of like that.
Before you know it, you'll have no issues walking into a masturbation booth in the middle of New York City, like, "Hey, I know what I'm about and I know what I'm here to do." Or maybe you'll just say this in your head before stepping into the shower with a waterproof vibrator. Either way, you should count your newfound confidence as a sexual victory. Here are five toys guaranteed to get you to the finish line.