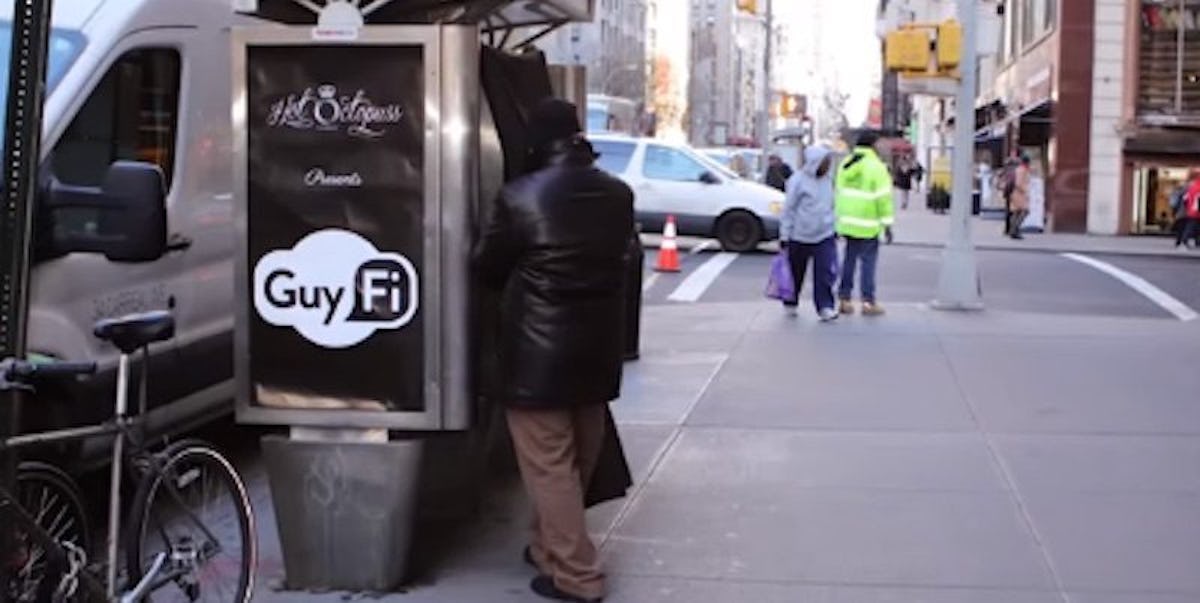 A Sex Toy Company Just Put A Masturbation Booth In The Middle Of NYC (Video)
Ask any New Yorker, and chances are, they've had more than one run-in with a public masturbator.
On the train, on the bus, on the sidewalk…they're everywhere. Spotting some old homeless guy beat the meat while you're trying to get through your morning commute isn't just unsettling; it's disgusting (not to mention, unhygienic).
Fortunately (or, unfortunately, depending on your point of view), sex toy company Hot Octopuss is seeking to rectify the situation with a public masturbation booth.
The booth, which resides at the corner of 28th Street and 5th Ave in Manhattan, boasts a curtain, chair and laptop, so stressed-out dudes can jerk it in peace whenever the mood strikes.
In a press release, Hot Octopuss co-founder Adam Lewis explains,
There's no denying that working a nine to five job can be stressful on the body, especially in a non-stop city like Manhattan. It's really important for guys to look after themselves so that they can stay healthy and focus properly on the task in hand… We hope the city's men enjoy using the space we've created in whatever way they want. It's completely free of charge…all we ask is that they thank us when they get their promotion!
On the plus side, this might cut back on the number of subway masturbators we encounter on the daily. But, that booth is going to get nasty real fast.
Citations: Theres Now a Masturbation Booth in NYC Made for Men to Relieve Stress During the Workday (Complex)