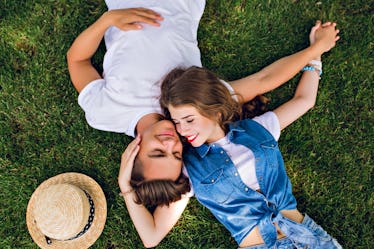 Feel Free To Skip These 6 Overrated Relationship Milestones This Year
Shutterstock
Moving in together, meeting the squad, saying ILY, and sharing your streaming account password — these are just a few of the momentous moves you can make with your partner. And while some of these steps are certainly worth taking in order to experience shared growth, there are also a number of potentially overrated relationship milestones that you can totally ditch if you choose.
Every couple is obviously unique, which means that milestones can look very different from relationship to relationship. For some, introducing a new partner to their fam is a big step. For others, it's spending the holidays together for the first time. And very often, it's the little things that count — like having your first argument, your first sleepover, or peeing with the door open. (To each their own, am I right?) The ones that feel especially meaningful to some couples may not really matter to you, and vice versa. Ultimately, milestones are just meant to demonstrate that your relationship is progressing.
So, let's be clear. There is no milestone that's silly, insignificant, or unworthy or celebrating. But if these particular steps don't fit within your relationship priorities, then feel free to skip right over them.