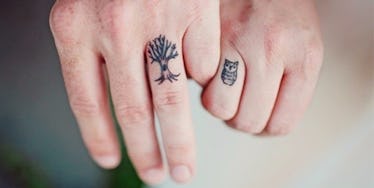 20 Awesome Wedding Tattoos You'll Want Instead Of An Engagement Ring
We Hear It
Marriage and tattoos are supposed to last forever.
Both are serious commitments requiring a lot of consideration. Not to mention, both ink and true love never fade, despite how much time passes.
Therefore, it's important to choose your body art just as wisely as you choose bae because getting rid of either one is painful, expensive and a huge pain in the ass.
Recently, a lot of couples have been combining their "I Dos"  with a love for tattoos and ditching the traditional diamond rings for a pair of badass engagement tats.
All of these tiny engagement tattoos look pretty amazing, and these lovely marks prove these newlywed couples will last as long as the eternal ink on their fingers.
Take a look at the pictures below to see these awesome wedding tattoos.
You can't go wrong with a classic Mr. and Mrs.
And swapping initials on your skin is super sweet.
They know to whom their hands in marriage belong.
Owl always love you.
Who needs real diamonds when you have body art bling?
These tats save the date forever on your skin.
Their love will last to infinity, just like their ink.
You can show your commitment with the perfect Pac-Man couple...
...or conquer the Seven Seas together.
There's no denying they make the perfect hand.
You can't forget your anniversary when it's tatted on your fingers.
Nothing shows infinite love like some ink.
True love is the key to making a marriage last forever.
They didn't have to take a gamble on their relationship.
It's not hard to see they're the perfect match.
These two are in it for the long haul.
These tats prove every king needs his queen.
'Til death do us (and our tats) part.
Trust and marriage go hand in hand.
They made the ultimate promise to each other.