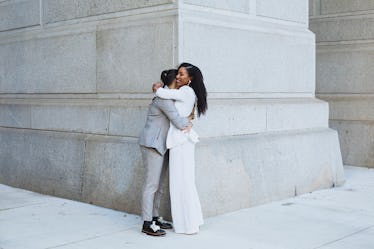 10 Women Who Had City Hall Weddings Reveal What That Was Like, & It's Beyond Cute
Wedding days are special. (Or so they say.) Whether you and your soon-to-be spouse choose to have it in front of hundreds of people in a full-blown wedding ceremony, or you chose to elope, or to have a low-key city hall wedding — the choice is yours. The point of a wedding day is to celebrate your love, and vow to spend the rest of your life with your bae, in sickness and in health. You can do that literally anywhere! Exhibit A: These 10 women reveal what their city hall weddings were like, and they prove that there is no wrong way to say "I do."
Do you and your fiancé/fiancée like the idea of a big wedding with all your friends, relatives, and coworkers? Would you rather go off the grid and get married on a whim with no one else around? Or are you leaning more toward a city hall wedding with a magistrate and a few of your closest friends and family? Whatever way you choose to get married, if at all, it can be important to remember that your day will be perfect no matter what, as long as you and your partner are doing what you want to do. Above all else, your wedding day is about celebrating how head-over-heels in love you and your partner are, and will be for the rest of your lives. Everything else is extra. Thanks to Reddit, behold: A firsthand look at these women's experiences with city hall weddings, and why they don't regret it one bit.