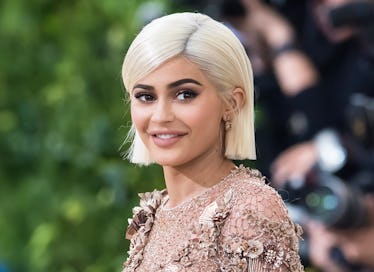 5 Clues Kylie Jenner Is Actually NOT Pregnant, In Case You've Been Wondering – UPDATE
It feels like the whole world is waiting for Kylie Jenner to either confirm or deny the rumors that she's pregnant with her first child with boyfriend Travis Scott. The news broke on Friday, Sept. 22, the day I decided to go on a 24-hour social media break. "Nothing will happen while you're gone, Kelli. Take a break!" I told myself. Safe to say I'm never taking a social media break again. Damn you, Kylie Jenner. Anyway, people have had their eyes glued to the star's social media accounts searching for any clues that Kylie Jenner is or isn't pregnant ever since. Although Jenner hasn't confirmed the news herself (and neither has Khloé, who is also reportedly pregnant because of course she is), fans are still taking every Snapchat, every Instagram and dissecting it to see if Jenner is, in fact, going to be a mother.
Update: On Sunday, Feb. 4, Kylie Jenner confirmed her pregnancy in an Instagram post. She welcomed a daughter on Thursday, Feb. 1.
Earlier: In the last month, there have been not one, not two, not three, but four unconfirmed pregnancy rumors circling the Kardashian/Jenner family. The first was about Jenner, the second was a couple of days later when it was announced that Khloé Kardashian is reportedly pregnant, we already knew there were rumors that Kim Kardashian and Kanye West were expecting a third child via surrogate, and then on Oct. 12, In Style reported Kourtney Kardashian is reportedly expecting a baby with boyfriend Younes Bendjima. SAFE TO SAY I'M STRESSED.
The only confirmed rumor is Kim Kardashian's. She confirmed that she and West were expecting baby number three in one of the trailers for the current season of Keeping Up With The Kardashians. She told Khloé in the video, "We're having a baby!" She notably doesn't say that she is pregnant herself, which many are taking as confirmation of the rumor that they've hired a surrogate since Kim's previous pregnancies were high-risk. So until we've heard from Kylie Jenner, Khloé Kardashian, and Kourtney Kardashian themselves that they are pregnant, we can't assume the rumors are true. It's all speculation at this point, even if sources are saying Khloé and Kylie are allegedly planning their nurseries together.
Since there has been a lot of fuel added to the Kylie Jenner pregnancy rumors fire, we've rounded up all the clues that prove Jenner isn't pregnant:
1. She hasn't confirmed it herself.
I feel like this is the most obvious clue. If Jenner was pregnant and due in January like the rumors say, I think she would have confirmed it by now. It's a pretty huge rumor, so it's safe to theorize that they're staying quiet about it in the hopes that the rumors will die down.
2. Kris Jenner won't confirm it.
Mama Kris is on top of everything when it comes to news about her children, which makes it admittedly surprising that one of the only things Jenner has said about her youngest daughter's reported pregnancy (in a text to Ryan Seacrest, of all things) is that Kylie's "not confirming" anything right now.
A couple of days after the rumors hit social media, Kelly Ripa and Ryan Seacrest went on air waiting for a text back from Kris Jenner commenting on the pregnancy rumors. In the video, you can see Seacrest gets a response from Jenner. He reads it and then sums up the text to the audience, saying,
Kris says Kylie's not confirming anything. That's the news from the family this morning. Kylie is not confirming anything.
No confirmation = the rumors are still speculation. Speculation isn't fact, so we can't assume these rumors are true (no matter how badly we want them to be). Kris Jenner responded to the initial rumors on Sept. 23 (the morning after the news of Jenner's alleged pregnancy broke) saying she's surprised everyone was just assuming the rumors were true with no confirmation. She told The Cut,
I just woke up this morning. She's not confirmed anything. I think it's kind of wild that everyone is just assuming that that's just happening.
Elite Daily reached out to Jenner for further clarification but did not hear back at the time of publication.
3. Most of the family members won't talk about it.
The Kardashians are meticulous about what they do and do not talk about in the media. It's part of the reason why they've been able to dominate news cycles for so long. They're experts at talking loudly about the things they want to talk about and keeping hush about the things they don't. If they don't want something staying the media, they stay quiet about it. Think about it: Did you hear anything from them during the Rob Kardashian and Blac Chyna revenge porn fiasco? No. They stayed quiet likely because they didn't want to make things worse if they didn't. And now they're not confirming any of the reported pregnancies other than Kim's because, you guessed it, they don't want to add anymore fuel to the fire.
What they've told us with their silence about the baby rumors is that they only are putting truth behind one of them (Kim's). Sure, this could be them giving Kylie and Khloé their space to experience their first pregnancies privately, but this is a Kardashian pattern and I'm going to take it at face-value.
The only person from the family to allegedly comment on Jenner's alleged pregnancy is Caitlin Jenner. A source told The Sun that Jenner reportedly knew about the alleged pregnancy "some time ago." Another source told Us Weekly,
Caitlyn is excited for Kylie but is also worried and thinks she is too young to move forward with such a big life decision like this.
Jenner is famous for going against what the rest of the family says nowadays, however, so I would take this with a grain of salt and only believe the rumors if/when Kris or Kylie say they're true.
4. None of the pictures she has posted show any kind of baby bump.
People like to think Jenner's hiding her alleged baby bump underneath big T-shirts, other oversized clothes, and by only taking pictures and videos of the upper half of her body. But she wore oversized T-shirts all the time before these rumors. Just because she's wearing them now doesn't mean she's hiding a baby bump underneath them. Also, the fact that she isn't showing anything below her chest in the pictures and videos she posts on Snapchat/Instagram isn't a surefire clue that she is hiding a baby bump. Not everything the family posts has a secret ulterior meaning, guys.
5. She can post whatever she wants on social media, so she could be messing with us because she knows we're obsessed with her life.
Like we said before, people have been taking every single one of Jenner's Snapchat/Instagram posts and dissecting them to try and figure out if she is actually pregnant. So when nothing is confirmed, anything could be a clue. Two weeks ago, fans thought Jenner revealed the sex of her reported baby on her Snapchat story when she posted a picture of pink and blue respective phone cases with the caption, "Which one? I'm thinking blue ..." with a blue heart emoji at the end.
Fans on Twitter took this as possible confirmation that she's pregnant and the baby is a boy. But fam, she could just be messing with us. Just like her mom said, it's a little wild to just assume all of the rumors are true because they seem likely to be true. The only info we have about the rumors are speculation. Given this, it's totally possible Jenner is playing into our collective obsession with her and is leading us on for fun with pictures of pink and blue phone cases and literal buns in an oven.
Think about it: If a bunch of people believed a wild rumor about you that you 100 percent know is false, would you mess with them a little bit just for fun? Of course you would. Because that would be freaking fun.
So until she's confirmed it herself, guys, I really find it hard to believe that Kylie Jenner is actually pregnant.