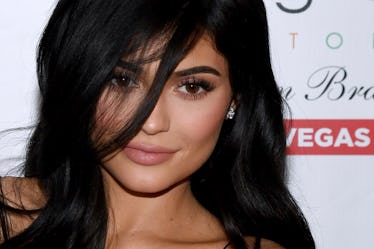 Fans Think Kylie Jenner Showed Off Another Major Pregnancy Clue On Snapchat
Ethan Miller/Getty Images Entertainment/Getty Images
I'm not sure what the hell is happening with Kylie Jenner's supposed pregnancy, but I could really use a confirmation either way. Not to yell at a potentially pregnant woman, BUT KYLIE, I'M GOING TO NEED A LITTLE MORE TO WORK WITH HERE. People have been eyeballing Jenner's social media, looking for the slightest hints of anything baby-related. Alert everyone you know because, for the first time since the news broke, we may have gotten a glimpse of Jenner's lower half. This has fans questioning Kylie Jenner's Snapchat of her possible baby bump, and they want answers.
On Sept. 22, a source reportedly told TMZ that 20-year-old Jenner and 25-year-old boyfriend Travis Scott had been telling friends the good news for a few weeks. People reported that a source claimed, "They started telling friends a few weeks ago. The family has known for quite some time. She is really excited and so is Travis!" The same source also claimed that Kylie is reportedly expecting the baby in February.
Elite Daily reached out to both Jenner and Scott's teams about the unconfirmed pregnancy report, but did not hear back by time of publication.
The recent Snapchat in question from Oct. 17 has since been deleted, but featured Jenner and her BFF, Jordyn Woods, dancing to some music. The real kicker is that Jenner was wearing a gray sports bra, and actually gave viewers a glimpse of her midriff. It was the first time we'd seen any skin from Jenner in weeks, so this was a big deal to fans.
Although Jenner gave viewers the smallest peek imaginable, fans are definitely scrutinizing the video and looking for any slight baby bump. Since Jenner has been covering up lately, fans will use anything they can get their hands (and magnifying glasses) on.
Let's keep in mind here, friends — Jenner has not confirmed these pregnancy reports. However, she sure as hell hasn't denied them, either. She has been doing a good job keeping her body under wraps and has even posted old photos of herself in recent weeks. An insider told People,
"Kylie prefers to stay home. She feels good, but her body is changing. She doesn't want to be photographed," the source said. "At the moment, she wants more privacy. She has family and friends come to her house instead so she has company. She is very excited about the baby though. She talks about the baby nonstop. She is already shopping like crazy."
Jenner has kept things mysterious AF on Snapchat. She's been filling her Snap stories with all kinds of "is-she-or-isn't-she" baby innuendos. I mean, literal buns in the oven. I think she's messing with us at this point.
Kylie posted a different Snapchat while lounging poolside. While sipping a cold drink, she added the words, "Nothing's gonna hurt you baby." She's giving us just enough to lose our minds entirely.
Jenner has basically been dropping hints all over the place. If these pregnancy rumors somehow don't turn out to be true, I really don't think we should blame ourselves. Another (possible) pregnancy-confirming post happened on Instagram on Sept. 21. Jenner reposted some fan art (which she very rarely does) and captioned it with a heart-eye emoji. Here's the photo in question:
IT'S LITERALLY JENNER HOLDING A SMALL CHILD THAT LOOKS EXACTLY LIKE HER. She posted this picture one day after the pregnancy news broke. TMZ's source claimed that Travis has been telling his friends the two are having a little girl. It's all just too much — I need to lay down.
Whether Jenner and Scott are expecting or not, there sure is a lot of evidence stacking up. Whatever is going on with you, Kylie, we all want the best for you. Now, can we get a yes or no?
Check out the entire Gen Why series and other videos on Facebook and the Bustle app across Apple TV, Roku, and Amazon Fire TV.