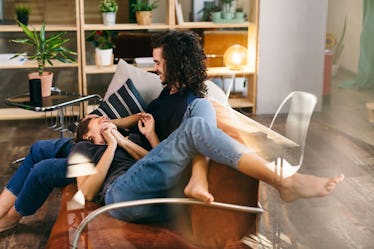 4 Things You'll Notice If Your Partner Isn't Ready To Move In, But Is Very Much In Love
As your relationship gets more serious, topics such as moving in together, getting engaged, and maybe even marriage, may start to come up in one way or another. If you find yourself wanting to spend more and more time with your partner, perhaps under the same roof, you may begin thinking about bringing up the possibility of moving in together. But if you're not sure your partner feels the same way and you're feeling a little nervous about bringing it up, keep an eye out for these tiny things you'll notice if your partner isn't ready to move in together just yet.
If you're ready to take that step, but your partner is not, it may not be in the relationship's best interests to pressure them. "Respect their timeline and that it doesn't match up with yours," dating coach Diana Dorell tells Elite Daily. "If things are going well otherwise, and you are happy in the relationship, honoring that space and their decision to hold off moving in is a good idea." You don't want to make your partner feel like you're forcing them to move in together before they're ready, but it's important to remember that just because bae may not be ready yet, doesn't mean they won't be one day or that they don't love you. Chances are they're as in love with you as ever, but it's just too soon for them to take that step.
Before bringing up moving in together to your partner, Dorrell recommends checking your own intentions for wanting to take that step. Is it because you really just want to live with them, or is there some ulterior reason, like saving money or a possible engagement that could stem from cohabitating? "Trust that it will happen naturally if you are meant to take this next step," she says, and recommends "making it known that this is something you desire in the future and making sure that's an option for them sometime down the line," too.
So, without further ado, these are a few of the things you may notice if your partner isn't ready to move in with you right this second.