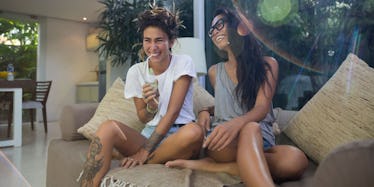 5 Subtle Signs Your Partner Wants To Move In With You For 24/7 Snuggles
Moving in with your partner is a pretty big step in your relationship. But not everyone wants to get to that point so quickly. There are benefits, surely, of living separately: You have more closet space, you can unwind after a long day alone, and time apart makes sleepovers with your partner all the more special. However, if you start seeing signs your partner wants to move in together, it could be something for you to consider. Plus, cohabiting has its perks! You have someone to help cook and clean, you save money on rent, and of course, you have someone to cuddle every night of the week.
Your partner could be dropping subtle hints they want to move in with you and testing your reaction from their little signs. A conversation about moving in could happen later down the road, but if it's on their mind or yours already, they could be looking at how you respond to the following situations. I spoke to Julia Bekker, matchmaker and dating and relationship coach, as well as women in committed relationships, about the subtle signs your partner could be, hinting they want to move in with you. They revealed the following about these signs.