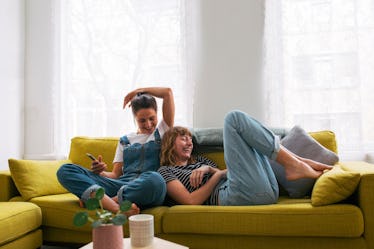 This Is How Relationships Change After You Move In Together, & Wow, This Is Telling
Deciding to move in with your partner can be a big, intimidating decision. It's one that you make together, thoughtfully and carefully — or you can just do what I did, and basically move in together mere weeks after meeting without really planning it whatsoever! I'm not saying that's the right way to do it, but so far, it's worked for me. In some ways, it may actually be harder for couples who've been together for a while to decide to co-habitate, because you may be worried about how your relationship changes after you move in together.
Well, take it from someone who's taken that leap of faith: While it can definitely be challenging at times, the upsides of living with your SO make it all totally worth it. (Except maybe having to share a bathroom, that's pretty much always a bummer.) But do be aware that things are inevitably going to change in your relationship — including the way you feel about one another, they way you interact, and how you envision the future. That may sound scary, but most of those changes can honestly be pretty awesome. Here's how you can expect your relationship to change when you decide so share an address.