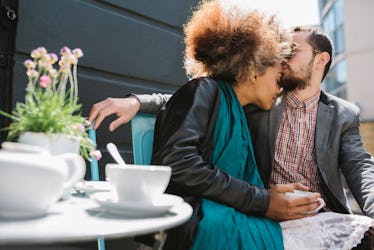 3 Healthy Communication Habits Every Couple Should Develop, Because It's Beyond Important
It's no secret that being able to productively converse with your significant other is an important part of any successful long-term relationship. If things are lacking in the communication department, then chances are, maintaining a healthy relationship might be difficult. Before things between you and your partner get messy, establishing the healthy communication habits every couple should develop needs to be a priority. Waiting for conflict to occur to figure out how your partner communicates isn't the best idea, and makes it easy for you to be blindsided down the road.
On the other hand, if you can, essentially, communicate about communication — which sounds totally confusing right now, but stay with me — then you're paving the way for future conflict resolution. But don't just take my word for it. To bring you the tea fresh from the source, I spoke with intimacy and sexuality coach, Irene Fehr.
According to Fehr, when trying to figure out a way to communicate that works for both you and your partner, your priority should be connection.
"The most important element of communication is connection," Fehr tells Elite Daily. "Too often, communication in a relationship happens without connection and turns into a fight because neither person feels close, open and in tune with the other." Below, the healthy communication habits you and bae should work on, starting ASAP.