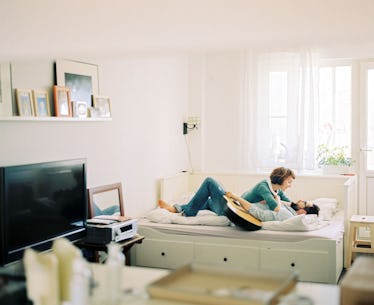 10 Tweets About Living Together That Are Funny, Sweet, & Completely True
Every relationship has its ups and downs. No matter how long you've been with your partner, it can seem like you're always learning something new about them. And if you and your partner end up moving in together, trust that there will be even more you learn about them every single day. Seriously, these tweets about living together are completely relatable for anyone who's been there. And if you don't currently live with your special someone, but are considering it or planning on it, then these tweets might just prepare you for what's to come.
There are a lot of perks that come with living with your significant other. You get plenty of cuddles, sex, and quality time together. But on the other hand, you also have to learn how to navigate all that time spent together. It can be a lot to deal with, and it's not as if moving in together will automatically make your relationship perfect. Even though it's a big milestone, it can be scary.
But fear not, because these tweets are here to make you laugh, cry, and want to go give your partner a big hug as soon as possible. Living together is an adventure — one that's filled with plenty of learning experiences along the way. And if you manage to live together in harmony, your love will grow even more than you'd expect.