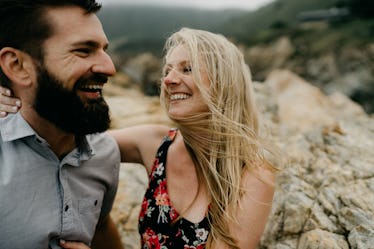 I Planned 31 Creative Date Nights For The Hottest Month Ever
If you and your partner have been together for, oh, I don't know, more than two and a half days, you've probably watched enough Netflix together to last a lifetime. Don't get me wrong; snuggling on the couch and watching the new season of Black Mirror is a cozy way to spend a quiet night in. But no one can blame you for looking for more creative date ideas that go beyond Netflix and chill.
I created a calendar of dates for you to kick off the new year. Some are romantic, some are sporty, and most involve various kinds of delicious food and alcohol, because hey, we're all only human. Most importantly, zero of them involve watching seven straight hours of TV until your butts leave imprints on the couch. You gotta shake it up from time to time.
Complete the calendar day by day, or if you and your partner aren't yet ready to spend 31 straight days together, cherry-pick your favorites for date-night inspiration.
Monday, Jan. 1
Take a romantic hot bath together. Line the tub with candles and drop rose petals into the water. If you're still a little hungover from last night, no worries — this is as relaxing as it gets.
Tuesday, Jan. 2
Get your tarot cards read together. Or read your horoscopes out loud to each other to see what 2018 has in store for each of you. (BTW, have you checked your astrological compatibility yet? If not, do it now!)
Wednesday, Jan. 3
Test-drive cars you have no intention of buying. While you're at it, make up fake personas and stay in character while talking to the car salesman.
Thursday, Jan. 4
Go ice-skating or rollerblading. Pro tip: Unless you're really steady on your feet, wait until you're back on solid ground before you attempt to hold hands.
Friday, Jan. 5
Sing karaoke. Nothing says "true love" quite like being willing to make a fool of yourself warbling through an early 2000s pop song.
Saturday, Jan. 6
Make hot toddies and play truth or dare. If it's a newer relationship, lean toward telling truths — you'll learn so much about each other. If you've been together for a while, dares keep things fresh and surprising.
Sunday, Jan. 7
Go for a hike. Or if it's too cold where you live, hit the slopes and go skiing or snowboarding.
Monday, Jan. 8
Take a pottery class together. How cute would it be to design a cup to hold each other's toothbrushes in your respective bathrooms?
Tuesday, Jan. 9
Have a dinner date where you both try a new kind of food you've never had before. That Ethiopian vegan place you always see on Yelp? Give it a whirl.
Wednesday, Jan. 10
Take a brewery tour. Or DIY it: Buy six different bottles of beer, pour a little of each into cups, and see if you and your partner can guess which is which.
Thursday, Jan. 11
Go to a comedy show. Or if you're really brave, dare each other to try five minutes of stand-up during an open mic night.
Friday, Jan. 12
Have a poker night with friends. I'm not stopping you if you wanna turn it into strip poker, either.
Saturday, Jan. 13
Explore somewhere new. Pick a historical landmark, zoo, vintage store, or whatever an hour away from you that neither of you have ever been to. Drive there for a mini day trip.
Sunday, Jan. 14
Go on a boat ride. Or if it's too cold where you live, find an indoor go-kart place.
Monday, Jan. 15
Build a snowman together. Do it for the 'Gram. Or if there's no snow where you live, head to the beach, because I'm incredibly jealous of you.
Tuesday, Jan. 16
Take a trip down memory lane. Watch your family's old home movies and Facebook-stalk each other's most embarrassing pics from high school.
Wednesday, Jan. 17
Go see a game. Bonus points if you get really into it and paint your faces to match your team's colors.
Thursday, Jan. 18
Read The Five Love Languages together. Then, talk about which love language fits each of you best to strengthen your relationship.
Friday, Jan. 19
Treat yourself to dinner at a fancy restaurant. This is also conveniently an opportunity to go full date-night glam.
Saturday, Jan. 20
Play pool at a bar. The winner buys the next round of drinks!
Sunday, Jan. 21
Go bowling. It's kind of old-school and dorky, but if you have any sort of competitive streak at all, this could bring it out.
Monday, Jan. 22
Do a photobooth crawl. You can find these in bars, restaurants, malls, the student center... see how many you can hit up in one night! When you get home, collage all your photo strips together.
Tuesday, Jan. 23
Swap massages. To up the ante on this DIY spa night, wear bathrobes and do sheet masks.
Wednesday, Jan. 24
Plan a trip together. Pick a dream destination (or, hey, no shame in a destination that fits your budget!) and start researching transportation and hotels.
Thursday, Jan. 25
Make something together. Whether you're finally putting together that shelf you got from IKEA or making a dinner together at home, the important thing is quality one-on-one time.
Friday, Jan. 26
Go to a drive-in movie theater. So Riverdale.
Saturday, Jan. 27
Visit a museum. Or watch a musical, go to a concert, see a ballet, or visit an art gallery — whatever floats your boat.
Sunday, Jan. 28
Take a spinning class together. The couple that sweats together, stays together.
Monday, Jan. 29
Visit an animal shelter. It's an adorable date even if you're just there to pet some fluffs — no need to make the intense commitment of taking one home together.
Tuesday, Jan. 30
Get drinks at a speakeasy. It might just be drinks, but somehow, the secret entrance makes the whole experience feel way sexier.
Wednesday, Jan. 31
Recreate your first date. After a month jam-packed with dates, pay tribute to the very first time you ever met!
Check out the entire Gen Why series and other videos on Facebook and the Bustle app across Apple TV, Roku, and Amazon Fire TV.
Check out the "Best of Elite Daily" stream in the Bustle App for more stories just like this!