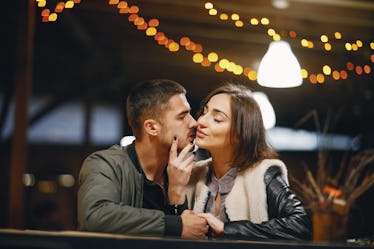 10 Romantic Date Ideas That'll Help You Fall Even More In Love
Shutterstock
Let's be real: It's not always possible to make every night the most romantic night of your life. Between school, work, family, and general stress, your rom-com moment may look more like ordering in and watching bad TV while wearing sweatpants. And while you and your boo may already hang out all the time, knowing some extra romantic date ideas that'll help you fall even more in love can make your love life feel like a literal Hollywood movie, if even just for a night.
No matter how long you and your partner have been together, taking time to be super intentional with your partner can help both you and your boo focus on how much you love each other. Whether you turn off your cellphones for an entire meal or finally try that Thai place that you've both been dying to check out, getting out of your routines and trying new things together can help you fall even deeper in love. Of course, no one knows your relationship more than you do, and a romantic date can be whatever feels right for you.
If you need some romantic inspo, here are 10 super special date ideas that will really let the sparks fly.