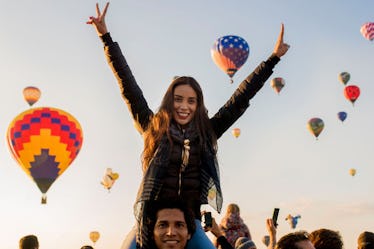 10 Lazy Tweaks That Majorly Upgrade Your Date Night From Blah To Brilliant
Spending time with your love can be as easy as spending time alone when you're really on the same wavelength. Sometimes, though, that can mean that you fall into a pattern of doing the same things on dates. When you're comfortable with your partner and happy staying in to watch Netflix, it can be hard to think of new date ideas that aren't boring. Don't fret if you feel like you're doing the same things over and over. There are some seriously easy and affordable tweaks you can make to your usual dates to make them unforgettable.
Sometimes all it takes is hunting for a deal on a wine tasting that would cost as much as a night of drinks at your favorite bar. Planning and researching randomly amazing things like a hot-air balloon festival coming to a town near you can make for a memorable night and remind you why you love spending so much time with your person. Whether you surprise your partner by returning to the place that you met, or returning to the place of your first date, adding creativity to your date planning can make your sweetheart feel extra loved.