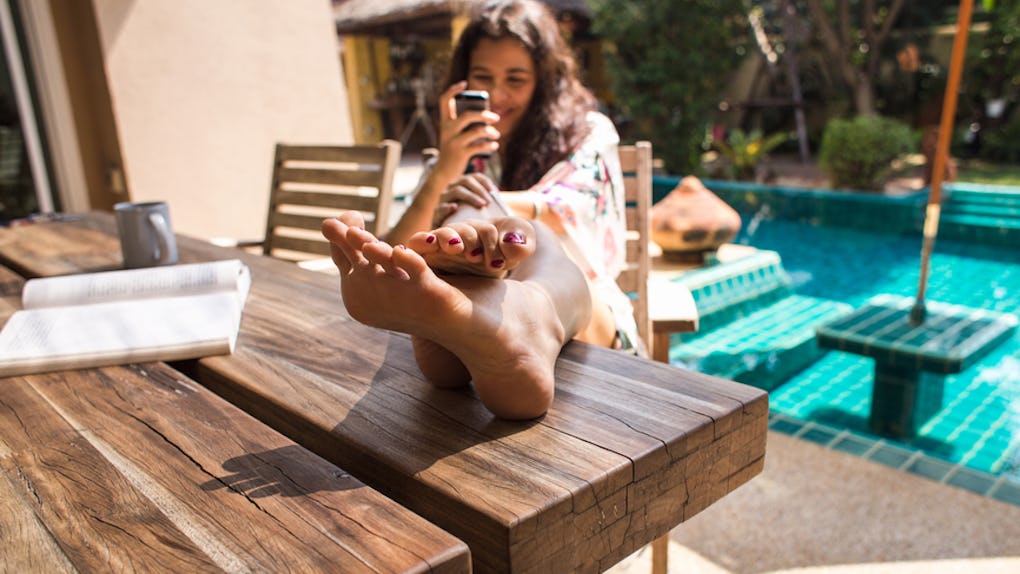 Jovo Jovanovic/Stocksy
13 Memes To Text Your Partner When You're Horny But You Want To Be Low-Key About It
I have to confess, I have a bit of meme addiction — to the point where probably half all text communication I have with my partner is via some kind of meme. I mean, honestly, whatever you're feeling or saying… there's probably a meme that says it better. And yes, that definitely includes feeling frisky AF, whether you wanna be obvious about it or play it cool. Everyone loves a good sext from someone they are into, but sometimes a straight-up sext is too blunt. In that case, what you need are some memes to text your partner to let them know you're craving that bod, but aren't super thirsty (even if you are).
If you just Google sexy memes, take it from me, you're gonna be super bummed. Most of them are misogynistic and let's just say a lot of them are heavy on the Pepe factor, if you know what I mean (if you don't, lucky you). But don't worry, you don't have to rely on Google when you have me. When it comes to memes, girl, I got you covered.
Here are 13 subtle (and not so subtle) memes to send bae when your body is ready.
1. For When Your Body Is Ready
Well, is it? Don't hold back, let them know the time is now!
2. For When You Want To Be Respectful Of The D
They say that if you want to get respect, you have to give it, right? Besides, what's hotter than a night full of respectful, um, respecting of one another's fun parts?
3. For When They Just Aren't Getting It
Have you been sending all the sexy time signals and they just aren't picking up what you're putting down? Well, you might just have to go ahead and spell it out for them in a meme language they understand. Consider this the dope slap of come hither memes.
4. When You Want To Show Your Appreciation
There's no shame in showing a little love and appreciation for your partner's sexy time skills. And yes, when it comes to body parts, they won't mind if you play favorites.
5. For When You Just Don't Know What's Gotten Into You
If sending a sexy meme is out of character for you, this meme has you all over it. Don't be afraid to let them know what you want, when you want it.
6. For When You Both Know What's Up
Sometimes the less said, the better. Y'all are on the same page, right? Still confused? Just throw an extra Y in that "heyy."
7. For When You Want To Be Artistic
Are you hot for their bod? Let this meme, erm, paint a picture for them. See what I did there?
8. For When You Want The D… Or Some Chocolate
Maybe you're craving something sweet? Some sweet D, that is.
9. For When You're Lazy… But Not That Lazy
This one is for all my fellow starfishes out there. Sometimes you just want to stay in bed all day… if you know what I'm sayin'.
10. For When You Wanna… Umm… Split That Cannoli
Mmm, you know what's really for dessert.
11. For When You're Awkward AF — But Also Horny
Hey, not everyone can be a smooth operator, but that doesn't meant you don't deserve to get what you want.
12. For When You're Done Playing Games
Listen player, sometimes you just have to show them the instruction manual.
13. For When You're Over Being Low-Key
Sometimes you just gotta give subtlety the boot and let 'em know what you really, really want.
All right, there you go. You're just a copy and paste away from being low-key horny to full on satisfied.
Check out the entire Gen Why series and other videos on Facebook and the Bustle app across Apple TV, Roku, and Amazon Fire TV.
Check out the "Best of Elite Daily" stream in the Bustle App for more stories just like this!