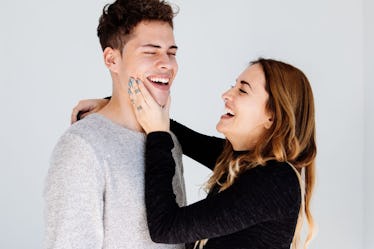 What To Do If You And Your Partner Don't Share A Sense Of Humor
Everyone has a list of relationship deal breakers: traits someone either has to have — or not have — in order for them to be suitable for something long-term. A shared sense of humor tops the list of must-haves for a lot of people. A partner who can make you laugh and laughs at your jokes is the ideal, because let's be honest, there are truly few things worse than telling a joke and having it land completely flat while on a date. After all, laughter has a significant effect on overall well-being. So, for many, if you don't seem to have the same sense of humor as someone, it's a wrap.
But what do you do if you're dating someone who is basically perfect for you in every other way? If you and your partner don't have the same sense of humor or find that you have no laughter in your relationship, is the whole thing doomed, or is there some way to salvage it? To answer this question, Connell Barrett, a NYC-based dating coach and relationship expert, and the founder of Dating Transformation, spoke to Elite Daily to help sort out the humor issue. And the good news is, there is hope.
This article was originally published on