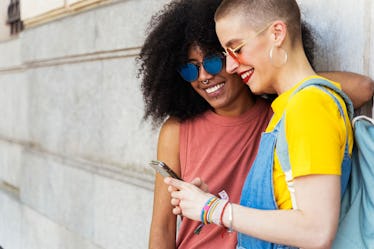 Here's How Texting Changes Over The Course Of A Relationship
When I'm first getting to know someone, I often find myself overthinking every single text I send to them. Anybody feel me here? For instance, I sometimes dial back the number of emojis I send, or wait a certain amount of time before I respond to a message. But when a relationship becomes more secure and vulnerable, my texting gets more authentic to me (read: emojis and GIFs everywhere). My own personal experience has led me to wonder… how does texting change throughout a relationship? I reached out to Michelle McSweeney, a researcher and linguist who studies the way we communicate digitally, to help me answer this question. And as it turns out, your texting patterns can tell you a lot about how much your relationship is progressing.
Whether you meet someone on an app or IRL, you probably start out by texting them casually about what you've been up to each day. Then, things become more personal over text as you start learning more about each other. "Texting changes as the intimacy level increases," McSweeney tells Elite Daily. "As the relationship becomes more solidified, the texting becomes less novel." Don't expect your texting patterns to stay the same as your relationship undergoes big changes. And that's a good thing! Your bond will grow and develop, and your texting will change to support that growth. Here's what to expect from texting at each stage of your relationship.