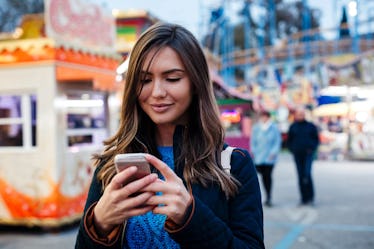 A Linguist Explains How To Text Without Giving Your Partner Anxiety
When I'm dating people, one of the first things I consider is whether our communication styles are compatible. And I'm not just talking about face-to-face conversations — I'm also focused on whether we're a good match over text. The truth is, everyone's preferred style and frequency of texting is different, and in order to be a better texter in your relationship, you need to understand how your partner communicates. Texting compatibility (understanding and respecting each other's digital communication styles) is way more important than you might think.
It's so important, in fact, that I'd argue it needs its own term. What do you call it when you and your partner get along great IRL, but you aren't meshing over text? According to linguist and researcher Michelle McSweeney, who studies the way we communicate digitally, this means you aren't "textpatible" as a couple. McSweeney and I cohost a dating podcast called Subtext, and in our May 2 episode, we delved into this very concept — what it means when you send more emojis than someone else, or when one partner is generally more communicative during the day than the other. McSweeney coined the term "textpatibillity" to describe the problem. For some people, it's a no-brainer to be texting back and forth all day long, but for others, it feels like too much to be constantly texting… which can cause their partner major anxiety while they wait patiently for a response.
If you get the sense that your partner is an anxious texter, or they've straight-up told you they get nervous about texting, how do you help them feel more secure? I asked McSweeney to share her best tips with Elite Daily. Ultimately, it comes down to open and honest communication about the way you both text. Try one (or more!) of these suggestions to help calm your boo's fears and assure them that you want them to feel comfortable.