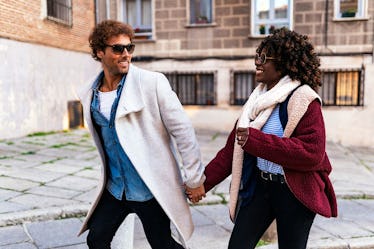 If Your Relationship Is Meant To Be, You'll Notice These 6 Signs
When it comes to love and relationships, few things are guaranteed. This is especially true early on, when you're looking for that someone special. As time goes on and you develop a partnership with a person, there still isn't an exact science to understanding your future. There are some basic qualities of a loving, trusting relationship that can suggest you have a future with this person. Amongst the signs that a relationship is going to last is a strong sense of trust, respect, support, and appreciation for each other that doesn't waiver, despite bumps along the road.
"Even the best relationship can have difficult times. Every relationship has serious problems, concerns and even crises," says Joshua Klapow, Ph.D. Clinical Psychologist and Host of The Kurre and Klapow Show. "Communication is the key to keeping a relationship healthy. Talking about more than the daily tasks. Talking about the larger topics respect, honor, love, dreams, fears, concerns." He stresses the importance of making sure that you are 'right with your partner' when it comes to how you express your love, dedication, and compromise.
The following traits are Dr. Klapow's key traits that are present in the strongest relationships.