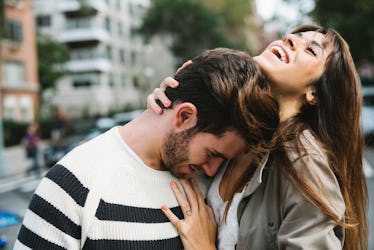 If Your Relationship Is Super Secure, You'll Notice These 4 Signs
"Security" may not be the sexiest word. It also may not be the first thing that comes to mind when you think about your ideal relationship, either. But the reality is that security plays a major role in any rock solid romance. So, how do you know if your relationship is super secure? Are there any signs to look out for?
Here's the thing about security — it breeds honesty, trust, and vulnerability. And all of those things are so key to a healthy, lasting relationship.
"For some, it can mean that you are comfortable being your true authentic self," says Dr. Gary Brown, a prominent relationship therapist in Los Angeles.
In order to understand this concept of security, it can be helpful to talk about what doesn't constitute a secure relationship. According to Dr. Brown, constant anxiety about whether your relationship will last or your partner will leave is one sign of insecurity. Also, if your relationship is so tumultuous that you never know what to expect from one moment to the next, that breeds feelings of general insecurity. However, if any of the following signs sound familiar, there's a good chance that you and your boo are secure in your bond.