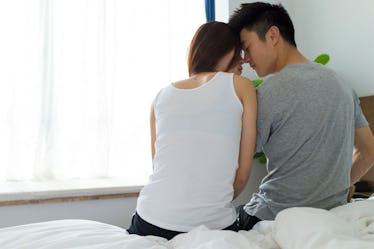 Here's How To Feel Confident Telling Your Partner Exactly What You Want In Bed, No Shame
If you're not totally comfortable with it, telling your partner exactly what you like in bed can be really hard. But here's the thing: It doesn't have to be. It may take a little work and a willingness to put yourself out there, but it's totally possible to open up about what makes you happy in bed. Believe me, both your body and your partner will thank you. You're entitled to good, safe, happy, pleasurable sex, and unless you're really lucky — and I mean, like lotto-winning lucky — your partner isn't going to know exactly how to make that happen for you without your own guidance. So it's up to you to speak up and let them know what you need and want.
I realize for the shy among us (which by the way I totally am too, so I get it) that it's a lot easier to say that you should speak up in the bedroom than it is to actually do it. That's why I reached out to sex experts for their best tips and advice on how to make opening up this line of communication as easy as possible, and let me tell you — what they told me is life changing. So, if you're ready to let your boo know what you want in the bedroom, here's how to get started, according to folks who really know what they're doing.