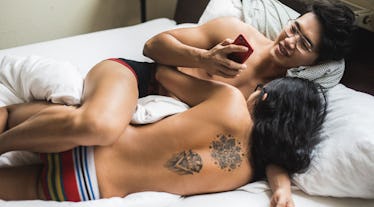 This Is Exactly How To Tell Your Partner What You Want In Bed, According To 7 People
Remember the days when everyone was a mind reader and could pleasure their sexual partners without uttering a word, or really even trying? Yeah no, me neither. Sure, once in a while, we'll get lucky and end up in bed with someone who just gets it, making further communication about what turns us on unnecessary at the moment. But more often than not, having amazing sex on a regular basis requires solid communication. The thing is, knowing how to tell your partner what you want in bed can be much easier said than done for some people. It's nothing to feel weird about! Maybe you're worried about hurting their feelings, or you feel uncomfortable about talking about sex in general.
Everyone has a different comfort level when it comes to discussing the specifics of physical intimacy with their partners. If the sex you're having is leaving something to be desired, the good news is that figuring out what's missing can actually be really fun. Exploring your sexual fantasies with your SO can be a great way to bond and ensure the sex you're having is at maximum hotness. It may feel awkward in the beginning, but finding a way to communicate your desires is the first step on the road to having a satisfying sex life. Here are some tips on how to tell your partner what you're craving between the sheets, from people who've struggled with it, but have ~cum~ out successful on the other side.