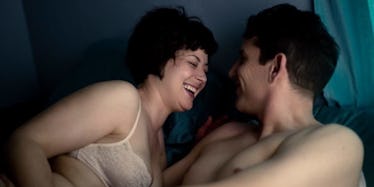 How To Tell Your Partner What You Want In Bed, Because You Deserve To Enjoy Yourself, Too
Having exactly what you want in bed is pretty great.
That said, occasionally in a long-term committed relationship, the sex is sometimes good, sometimes not, and it can be hard to ask for what you want in bed.
My husband and I got married just eight weeks after our first date, but the speed didn't matter for our sex life: We were perfect together in bed right away. We liked the same things, we had a ton of chemistry, and neither of us was ever scared to ask for more of what we want.
I got pretty lucky with him, but I know it's not always so easy to speak openly about what you want sexually.
If you are wondering exactly how to tell your partner what you want in bed, worry not: I spoke to some experts for tips.
Dr. Martha Tara Lee, a clinical sexologist (DHS, MA, BA) and founder of Eros Coaching, says that it's not unusual for women to feel like they may not be getting everything they need out of their sex lives. Men, she says, have a tendency to focus on the main erogenous zones at the expense of the rest of the body because this is what they think they should be doing from society, pop culture, porn... you name it.
Dr. Lee says no matter what the cause of your dissatisfaction in the bedroom, it's always OK to ask for what you want: "You're you, and you need to take care of you — what you need, want, desire when it comes to sex. Don't blame, don't shame, just take care of you, you bedroom goddess!"
Here are some ways to better ask for what you want sexually:
1. Know What You Like First
Stefani Threadgill, a sex therapist and sexologist, says that if you want to communicate your needs, you have to know what they are first. "In order to communicate what you want in bed, you have to know what you want and what you like," she says.
According to Threadgill, this means spending some time with yourself along with the time you spend with your partner: "Through solo play or partner play (ideally both), explore your body and what feels good."
And she says even if you haven't been into this in the past, it might be a good time to start: "For women who abstain/eschew solo sex, know that women report more powerful orgasms from masturbation than partner sex. If you know how to please yourself, then you can teach your partner how to please you."
2. Make Sure You Connect Outside The Bedroom
When a couple isn't connecting well outside of the bedroom, it's hard for the sex to flow well. What goes on outside the bedroom matters just as much, if not more, than what goes on inside it.
If you are preparing to ask your partner for what you want, and you want to make sure they're receptive, spend some time making sure you're truly connected as a couple apart from sex. This could mean going on intentional dates, doing nice things for them, or even just setting aside more time to talk and be yourselves together.
Connecting on an emotional level is the first step to making sure you're in a good place to start talking more about what you want in the bedroom.
3. Be Encouraging
Before you ask for what you want, you should start with being encouraging to what your partner is already doing.
Telling your partner you want something more sexually is a tricky situation, because you want to make sure you don't criticize them or hurt their feelings in the process. The best way to do this is to start off with some compliments and then lead them in the direction of what you want.
Dr. Lee says you can use simple phrases like, "Yes, that's sooo close to what I love!" Being encouraging upfront will make your partner more open to hearing about what you want down the road.
4. Ask With Specificity
Asking with specificity is a great way to ensure that you are really communicating with your partner about what will make you happy, instead of a more general, amorphous idea of what you might want.
For example, instead of saying, "Can you be softer with me?" you can say, "I really like it when you stroke my legs slowly." Or conversely, instead of saying, "I like it rough" you can say, "It turns me on when you pull my hair sometimes."
Dr. Lee says you can also just remind your partner what you like with a statement like, "You know I really like when it is slow and sensual."
She even says you can go as far as quantifying what you want, to make sure your partner knows exactly what you're looking for, using numbers and scales if you have to: "Hey, hey, hey... it hurts me when you do that. How about reducing your speed 50 percent?"
5. Write It Down
If you feel a bit shy starting off with direct communication, you can try leaving your partner a sexy love note somewhere they are sure to find it, or you can send them a racy text in the middle of the day.
Although my husband and I are pretty open about our sex life, we do like to send really sexy texts when we're away from each other. Not only does this give us something to look forward to trying in bed, it also gives us a chance to communicate in a different way than just talking.
Threadgill says this works for a lot of women, because it's less nerve-wracking: "Sexting is less intimidating for some women, so that can be a tool to communicate what you want by sharing what you want to try with your partner — a turn-on, a fantasy, or a past experience with him that you want to have again."
Recalling a past experience can be great, says Threadgill, because it will appeal to your partner's ego.
That said, if you are feeling really shy, you can send your partner a sexy video with a note saying, "I'd love to try this with you."
6. Show And Tell
Dr. Lee says showing your partner, instead of directly telling them, is another good way to ask for what you want in bed. It'll not only be a sexy moment for the two of you, but it might also help your partner better understand what you are looking for.
She says you can say something like, "How about if I try to show you exactly what I like on you and you do it back on me?"
The caveat here, of course, is that you have to actually be able to show your partner what you want, but it should be really fun to do so. For inspiration, says Threadgill, you can read erotica or romance novels or watch a sexy film.
This can also work if you want to open a dialogue about different sexual acts in the bedroom, but you're not really sure where to begin. Normally, your partner will be thrilled to have you do something sexy on them as part of you talking about what you want!
7. Reward And Give Back
Once you've opened up a bit and been able to get across to your partner some things you might like, whether it was verbally or otherwise, make sure you continue to be openly rewarding of their support and listening. And make sure you give back.
Dr. Lee says you can use simple statements like "You're so good at pleasing me!"
You can also use noise to get across what you really like. "A woman moaning and in ecstasy is the verbal feedback [your partner] needs to know [they] are on the right track," she says. Sounds like "mmm" and "yeahhh" can work wonders at making sure your partner knows they are doing well.
Rewarding verbally is great, but you can also take the opportunity to show your partner how much you appreciated that they heard you by doing something nice for them in bed.
If you aren't totally fulfilled in your sex life right now, it's OK to open a conversation about what you want, says Dr. Lee, but remember to be patient.
"Men can be task-oriented inside and out of the bedroom — going from point A to B in the shortest amount of time (i.e. from erection to ejaculation)," she says. "Have some compassion for the lack of sexual skills that your partner might have."
It's not a lost cause, either, she continues: "Humans are teachable, and they need to also have partners who are patient, are willing to explain, or show the way (non-verbally) where needed. Don't just dismiss somebody for bad first-time sex."
And remember, you can always get help when needed: "If all else fails, send them to a sexologist like me for some Skype coaching," says Dr. Lee.