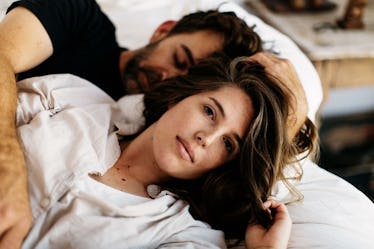 A Sex Therapist Explains How To Nicely Tell Your Partner To Step It Up In Bed
Orgasms are not the most important part of sex, but they are a lot of fun. So if you're someone who can typically achieve an orgasm but you aren't having them with your partner, it can be a real bummer. Here's the good news: Most of the time, that situation can be fixed with some communication (~cum-munication~) with your partner. If you've been avoiding saying anything about not having orgasms, here's how to tell your partner so it won't hurt their feelings — because, let's be honest, no one loves to hear they aren't exactly putting it down in the bedroom. That being said, you deserve to be living your best and most fulfilling sex life, and it's worth having a conversation with your partner to help you get there.
So, to help navigate these potentially sensitive waters, I reached out to experts Kristin Marie Bennion, licensed mental health therapist and certified sex therapist, and certified sex therapist Sarah Watson for their takes on how to address this (very common!) problem. Here are their suggestions for preparing for, broaching, and handling the conversation in a way that is constructive and will help ensure your partner knows it's time to step it up in bed — the nice way.