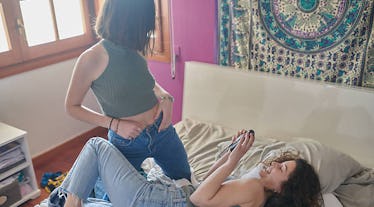 5 Healthy Boundaries You Should Set In The Bedroom ASAP, According To Experts
When it comes to having amazing sex, the first thing that comes to mind is probably not boundaries. Most people think great sex is about letting go of all your inhibitions and just going with the flow. But there is a big difference between having uninhibited sex, and having no boundaries about what you expect and need sexually. In reality, knowing which healthy boundaries to set in the bedroom is the best path to having the kind of free and fearless sex you fantasize about. Not only will having guidelines give you a sense of security, but it can also create a roadmap for your partner about what you enjoy to maximize your pleasure.
That all sounds pretty great, right? But what does it actually mean in practice? Is this only for new partners? Or should you be having boundary conversations with long-time partners? The answer is all of the above. With new partners you have a clean slate to build on, and with long-time partners, while you have been setting boundaries subtly or passively, there is no time like the present to get real with them about your limits and preferences in the bedroom. To help lay out what boundaries you should consider and communicate to your partners, I reached out to sex and relationship experts. Here's what they had to say.