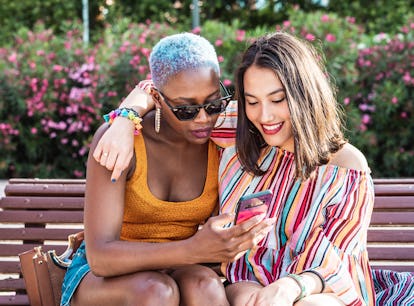 These Are The 20 Cutest Memes To Send Your Person Right Now
Addictive Stock / Rafa Cortes/Addictive Stock/Getty Images
I don't mind saying it: Memes are my love language. No matter what stage your relationship is in, they're an undeniably fun way to express yourself — and gauge your partner's feelings, too. Still, finding cute memes for her or sappy tweets for him can be a challenge — there's a lot of internet to sort through! — but it's still worth doing some research (memesearch?).
Memes are great for keeping things light while also hinting at some legit emotions, aka they are ideal for anyone who's still feeling out a new relationship. For example, sending a meme that makes a joke of hating having to say "goodbye" is way different than sending a deep text like, "I wish we never had to say 'bye.'" Sure, there is a time and place for that type of vulnerability, but while you're still dipping your toes in the water, memes can help bridge the tricky gap between protecting yourself and opening yourself up.
Of course, there's always potential to go overboard, and you don't want to overwhelm your partner with a ton of lovey-dovey memes right away. Still, stockpiling some sweet potentials for the right moment is never a bad idea. Read on for cute memes that are super sweet and DM-ready.