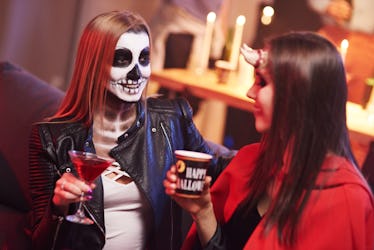 12 Halloween Cocktails That'll Be Wicked Tasty At Your Backyard Happy Hour
Westend61/Westend61/Getty Images
Halloween is creeping up real quick, so if you're planning at-home festivities, make sure you've got some boos on the menu (if you're 21 and up). A few Insta-worthy Halloween cocktails for your backyard happy hour can make sure your hangout is not just another party, but a full-on monster mash kind of bash. After all, every good witch needs a signature brew, so it's time to settle on yours.
Depending on the theme of your backyard hang, there are a ton of cocktail recipes on YouTube to choose from. For a backyard movie night with your roomies, mix up some drinks inspired by classic Halloween films like Beetlejuice and Hocus Pocus. If you want something fun for everyone to enjoy, make a round of scary good Jell-O shots in cute mini mason jars. Add a festive spin to some of your go-to drinks like Negronis and martinis, or make a boozy version of your favorite fall-time fave: a Pumpkin Spice Latte.
With cool beaker glasses and spooktacular eyeball garnishes, you can serve up some drinks that will make everyone want to snap a ton of pics before they start sipping. Draw inspo from these 12 Halloween cocktails, or come up with some spooky variations on your own for tons of spooky fun.