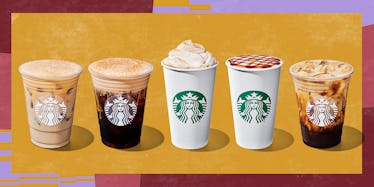 I Tried Starbucks' Fall 2023 Menu Ahead Of The PSL's 20th Birthday
There's even a drink inspired by a TikTok fave.
Courtesy of Starbucks
It's almost the most wonderful time of the year — when August slips away into a moment in time, making way for new Septembers (and new Taylor Swift music!); when the Gilmore girls start to defrost; and when all the fall girlies' fave beverage comes back better than ever. That beverage, of course, is the Pumpkin Spice Latte, which returns on Starbucks' fall 2023 menu starting Thursday, Aug. 24, along with several other autumnal classics and brand-new innovations; one is even inspired by an item on the ever-viral secret menu. And I was lucky enough to taste-test all of them before the big day.
I'll be real with you, in the 20 (!) years since the PSL first debuted, I don't think I've ever had one. Maybe I've had a sip or two here and there, but I've never bought and casually sipped one intentionally. I'm not really a coffee drinker, in general; I tend to find the flavors to be too intense (or my lactose intolerance kicks in). So when I tell you that I tried and reviewed Starbucks' Iced Pumpkin Cream Chai Tea Latte, Iced Apple Crisp Oatmilk Shaken Espresso, Pumpkin Spice Whiskey Barrel-Aged Iced Latte, and Pumpkin Spice Espresso Martini — all of which are brand-new — you know that you'll be getting unfiltered feedback.
Below, you'll find my honest reviews for Starbucks' new fall 2023 menu:
Starbucks Iced Pumpkin Cream Chai Tea Latte Review
All the lonely Starbucks lovers on TikTok have been obsessing over the secret menu's Pumpkin Chai Latte — a combo of the brand's Chai Tea Latte, with a little pumpkin spice sauce and topped with cold foam and pumpkin spice topping — for years. "This is my go-to," said one user on TikTok, with another chiming in: "It's so good, I get two weekly." Well, Starbies finally jumped on board with the customization, creating its own blend inspired by the viral concoction. It's essentially the same as the Baby Yoda drink, which was also recently brought from the secret menu to the real deal, but instead of matcha cold foam, it calls for pumpkin cream cold foam.
I didn't have much to compare it to — the only pumpkin drink I'd previously ever had was the pumpkin juice at the Wizarding World of Harry Potter in Universal Studios — but the creaminess with hints of spiced chai paired really well with the pumpkin notes. This one was my absolute fave of the bunch, especially since it acted like a warm hug even though it was a cold beverage. I can't wait to order it.
Starbucks Iced Apple Crisp Oatmilk Shaken Espresso Review
Another new kid on the block is this delicious mix of Starbucks' Blonde Espresso and oatmilk, with notes of apple, cinnamon, and brown sugar. Unlike the Iced Pumpkin Cream Chai Tea Latte, the Iced Apple Crisp Oatmilk Shaken Espresso is very light and coffee-forward. That's usually not my preference, but it also tastes, as the name suggests, like cold apple crisp, which made me seriously crave a warm apple-infused dessert with vanilla ice cream.
Starbucks Pumpkin Spice Whiskey Barrel-Aged Iced Latte Review
I drink whiskey almost as much as I drink coffee, which should tell you how very little I drink it. While coffee burns my tongue, whiskey burns my throat. Neither of those issues was present with the Pumpkin Spice Whiskey Barrel-Aged Iced Latte (available only at Starbucks Reserve locations, though. For one, it was iced. It's also not made with real whiskey, but rather it tastes like it due to the beans being aged in a whiskey barrel; the whiskey-flavored whipped topping sure helped as well. Considering my palette, I'm definitely not the right customer for this cocktail-tasting non-cocktail, but I recommend it to others who enjoy some Jack Daniel's.
Starbucks Pumpkin Spice Espresso Martini Review
The first and only time I ever had an espresso martini was at Kendall Jenner's espresso martini lounge earlier this year — and that was made with her 818 Tequila and not your typical vodka. Starbucks' Pumpkin Spice Espresso Martini (also available only at Starbucks Reserve locations) stands out in a whole different way, combining its traditional espresso 'tini recipe, which includes vodka, coffee liqueur, and Starbucks Espresso Roast, with the beloved flavor of pumpkin spice. Two words: Yum. Me. I'm calling it now, fam — this one's going to be a crowd-pleaser.
Starbucks' PSL returns on Thursday, Aug. 24, along with the rest of the fall menu, which also includes classics like Starbucks' Pumpkin Cream Cold Brew and Apple Crisp Oatmilk Macchiato. You can also find new artisanal bakery items like the Pumpkin Maritozzo and Pumpkin Spice Cake, plus the Starbucks Reserve's own Pumpkin Spice Latte for the first time ever, at select Starbucks Reserve locations.