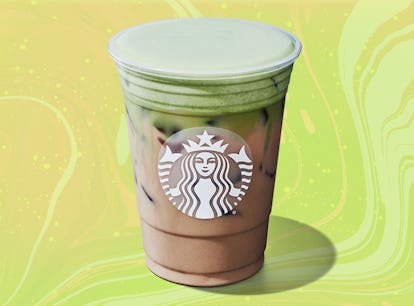 You Can Now Order TikTok's Viral Baby Yoda Drink On Starbucks' App
Matcha Cream Cold Foam is my new fave topping.
Courtesy of Starbucks
A few months after the hype around The Mandalorian and 2023's reigning daddy, Pedro Pascal, reached its peak, Starbucks finally made a TikTok-viral secret menu sip inspired by the Disney+ series official. As part of its Summer Menu Remix launch on Aug. 14, Starbucks' Iced Chai Latte with Matcha Cream Cold Foam, aka the Baby Yoda drink, is available to order on the app. Now that the Grogu-inspired green and tan sip is a legit Starbucks drink, I had to try it for myself and see whether the new cold foam was worth all the love.
ICYMI, ordering Starbucks' Matcha Cream Cold Foam was previously a bit of a process unless you were at a location IRL. Because you couldn't specifically request the topping on the Starbucks app, you had to ask your barista to blend your Sweet Cream Cold Foam with 1 tablespoon of matcha powder to get the mint green addition. Personally, I preferred it with two scoops to let more of the matcha flavor come through. So, when I ordered my Starbucks' Iced Chai Latte with Matcha Cream Cold Foam on the app, I was thrilled that it was as easy as tapping the name of the drink, and then checking out.
When I arrived at my Starbucks to pick up my drink, I was pleased with how 'Gram-worthy the sip was. Just like Baby Yoda, the iced chai latte was clearly divided into the creamy light green topping and the light brown tea base. At first sip, the flavor of the Matcha Cream Cold Foam was the first thing to hit my tastebuds. It was pretty sweet and thick, and I noticed the matcha taste didn't really come through as much as I'd expected. It almost had more of a pistachio flavor with hints of vanilla and cream, and I think it could do with another scoop of matcha (you can customize Extra Matcha Cream Cold Foam in the app).
However, as the cold foam topping began to settle and mingle more with the chai latte base, the tea flavors began to stand out more. The cinnamon and cardamon spices came through, and surprisingly paired really well with the vanilla from the Matcha Cream Cold Foam. It was still really sweet for me, but I was able to drink half of my order pretty easily.
TBH, I'm more of a classic coffee girl who loves her brew strong and on the bitter side, but I enjoyed this drink more than I expected. I also love that the Matcha Cream Cold Foam is now an option that you can add for $1.25 under the customizations tab, and I can see myself pairing it with a less sweet sip like a Cold Brew or even an iced coffee.
If you're not a fan of matcha, Starbucks' other Summer Remix menu offerings also include an Chocolate Cream Cold Brew that comes in a caramel-lined cup (basically a dessert in drink form), as well as Starbucks Iced Black Tea Lemonade that's basically blended with ice.