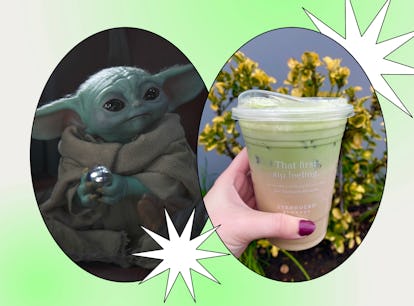 I Tried The Baby Yoda Drink From Starbucks & It's My New Fave
This $5 sip looks just like Grogu.
Disney+/Rachel Chapman/Elite Daily
The Mandalorian is back for Season 3, and along with it, the Baby Yoda hype returns. Let's be real, though, our love for little Grogu has never left. Even TikTokers have been enjoying a Starbucks drink inspired by the character since last season, and I tried the Baby Yoda drink to see how it tastes. You may be familiar with the Baby Yoda Frappuccino which became popular in 2019. That drink is a matcha green tea Frappuccino with a caramel drizzle to resemble Baby Yoda's robe, but this chai latte with matcha cold foam actually looks more like Grogu.
When you look at Baby Yoda, he's basically green on top and brown on the bottom. That's exactly what this Starbucks drink is. The matcha green cold foam sits on top of the light brown chai latte, so that from far away, it looks like a little Grogu in a cup. All that's missing are the adorable Baby Yoda ears to really make this drink picture-perfect. Aside from being Insta-worthy, this drink is also tasty AF. Who knew that chai and matcha would be such a perfect pair? The flavors may even rival Mando and Grogu as the greatest duo in the galaxy.
If you're like The Client and "would like to see the baby," here's how you can order a Baby Yoda Starbucks drink for yourself.
How To Order The Baby Yoda Latte From Starbucks
Just like any mission a Mandalorian must go on, ordering a Baby Yoda Starbucks drink requires some effort. Of course, it's really not that much work at all. The only challenge is that you'll need to order in store. Currently, the Starbucks app doesn't allow you to request matcha powder in your cold foam to get the matcha cold foam on top, so it's something you'll need to request directly from a barista.
To order, just ask for a chai latte in whatever size you'd like and add a matcha cold foam. It's that simple.
A Review Of The Baby Yoda Starbucks Drink
One of my go-to orders from Starbucks is an iced matcha latte with a pump of chai flavor. I actually found this secret drink recipe on TikTok in 2020 and have been obsessed with it ever since. So, when I saw that the Baby Yoda drink also requires two flavors, I knew I would love it. Chai and matcha really do balance each other out to make a perfectly sweet drink. However, it may be too sweet for anyone who prefers a more bitter coffee in the morning or doesn't have a sweet tooth at all.
Unlike the matcha latte with chai, this Baby Yoda latte is more chai-forward. It makes sense since it is the base of the drink, so you may be disappointed if you're looking for a lot of matcha flavor. In fact, the matcha powder in the cold foam really just adds color. If you're not a matcha fan, you'll love that, but anyone who is a fan may want to ask for more than just one scoop. I think if I were to try this again — which I 100% plan to — I will ask for two scoops of the matcha powder to be added to the sweet cream cold foam.
If you really love the flavor of chai, you may also be disappointed that the cold foam takes it down a notch. Personally, I like that it makes it more of a vanilla chai, but TikToker Sarah Pop (@5arahpop) felt like it wasn't the best because the foam took away the cardamom flavor of the chai. Pop also said in her caption that if she tried this drink again, she would add a shot of espresso since she's more of a coffee drinker. I also love a dirty chai from Starbucks, so I may have to try the Baby Yoda with a shot of espresso too.
While the flavor potentially could garner mixed reviews, I truly loved this drink. It was also cheaper than my go-to iced matcha latte, which is normally $6 compared to the $5 Baby Yoda. Plus, it's so Insta-worthy. The colors are much more interesting to look at than just a green drink, and it really does look like a color block Baby Yoda. Ordering an extra scoop of matcha could make the green in the foam even more vibrant, so I'll definitely be trying that version next. For anyone nervous to try Pedro Pascal's go-to Starbucks order, this Baby Yoda will be the perfect companion for when you're ready to watch Season 3 of The Mandalorian.