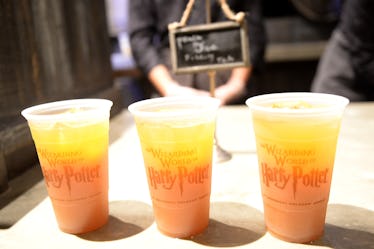 7 Magical Treats You Need To Try At The Wizarding World Of Harry Potter
Gustavo Caballero/Getty Images Entertainment/Getty Images
If you're a bit blue that you never received your acceptance letter to Hogwarts School of Witchcraft and Wizardry, you can still experience the magic. Pack your bags and get your wand ready, because The Wizarding World of Harry Potter at Universal Studios awaits. It's the most magical theme park you'll ever experience, from the rides to the overall ambiance. Of course, you have to try the Butterbeer everyone keeps talking about, but overall, the food at The Wizarding World of Harry Potter will seriously make your mouth water.
You will truly feel like a wizard when you set foot inside either Hogsmeade or Diagon Alley. After making your way through Harry Potter and the Forbidden Journey, Slytherin over to treat yourself to some of the sweets that Harry himself would approve of. The minute you bite into any of these seven treats, you'll be transported like you're on the Hogwarts Express straight to the Wizarding World you've been dreaming you could be apart of.
Forget the charms and spells, because the delicious food you'll find here is all the magic you'll ever need. We're totally Sirius about these sweets, but of course, you'll Neville know until you try them for yourself.