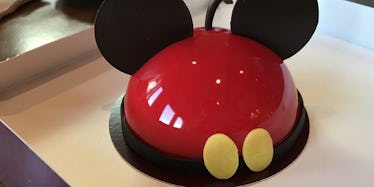 10 Most Instagrammable Treats At Disneyland Every Foodie Needs To Put On Their Radar
Courtesy of Rachel Chapman
Churros, candy apples, and Mickey-shaped waffles… oh my! These are just some of the amazing treats you can find at Disneyland. And as far as Disney is concerned, you know everything is guaranteed to be delicious and absolutely magical. Whenever I go to the parks, I make it a top priority to stop at the bakery on Main Street to check out what new treats they have in store for my day. Everything is so freaking tasty, you want to eat it immediately, but of course, the foodie in us all can't forget to snap a picture of it first for Instagram. This is why we compiled a list of the best food in Disneyland you need to put on your radar ASAP.
Things are always changing in the parks. New foods pop up all the time, so some of the most Instagrammable foods are only on the menu for a limited time. I spent hours making an extremely important list of all of the holiday food I wanted to try, and will be making it my mission to check them off before they're all gone. Luckily, there are so many classic staples that will never leave the parks. So, whenever you're heading to "The Happiest Place On Earth," make sure to snag a picture of these 10 most Instagram-worthy treats at Disneyland.
1. Colorful Churros
You can't go to Disneyland without getting a churro. Disney knows what's up, and now they offer churros in a variety of different colors. Depending on an event or specific holiday, you can find specialty churros around the park. Treat all of your Instagram followers to a sweet s'mores churro, or get your Jedi on with a lightsaber churro.
2. Mickey Waffles
Everyone loves a Mickey Mouse-shaped waffle. They're so cute, you almost don't want to eat them… emphasis on the "almost." These waffles are so iconic that you'll find Mickey waffle key chains, magnets, and even dog toys throughout the park's shops.
3. Popcorn In A Bucket
When you're walking down Main Street, you can't escape the aroma of popcorn, which is probably why we're always headed straight for the cart. Disneyland also makes it so easy for you to keep munching all day long with a premium bucket that comes with a strap, and let me just say that I am beyond obsessed. In the spirit of Halloween, the premium popcorn buckets offered include an adorable Mickey pumpkin and an Oogie Boogie bucket from The Nightmare Before Christmas. The lines to get a premium bucket are almost as long as the rides, but it's clear as to why. They're just so adorable.
4. I Am Bread
This popular treat for Instagram is Guardians of the Galaxy Groot Bread, aka, "I Am Bread." Those little olive eyes are just too hard to pass up. Disneyland offers a variety of fun shaped bread all year round. For Halloween, they have spooky vampire Mater bread from Cars.
5. Character Cake Pops
If you've ever walked by one of the bakeries or confectioneries at Disneyland, I'm sure you've paused to gaze in the window at all of the amazing treats they make. There's always something new to see, especially their cake pops. Right now, they're offering the Poison Skull Apple, the Poison Caramel Apple, and Maleficent cake pops for Halloween.
6. Ghirardelli Ice Cream Sundae
It's obvious that the Mickey ice cream is a pretty iconic food you need to Instagram. Everyone has seen it, even if you've never been to the parks. You need to add that to your list, but there are so many more ice cream options at Disneyland that will up your foodie game, including the Ghirardelli ice cream sundaes at California Adventure. Might I suggest using Paradise Pier as a backdrop for your pic?
7. Dole Whip
This is another one of those specialty treats that when you see it, you immediately think of Disneyland. The pineapple soft serve that you can find near the Enchanted Tiki Room makes for a perfectly delicious Instagram pic. Whether you get it just as soft serve or a Dole Whip float, you can't go wrong snapping a photo and eating it.
8. Mint Julep And Mickey Beignets
If you find yourself at the Mint Julep bar, you need to get yourself a mint julep and some Mickey-shaped beignets. They go perfectly together for a sugar-filled dream come true. Honestly, I get why they make everything shaped like Mickey Mouse, because they're just too adorable. They make specialty Mickey beignets for different holidays, like these orange sugar Dreamsicle Beignets for Halloween.
9. Anything In A Cone From The Cozy Cone Motel
When you stop by the Cozy Cone Motel in Cars Land, you'll find a variety of puns and treats in cones. Just like everything in Cars Land, it's perfectly themed. Snag an ice cream cone for the Instagram.
10. A Specialty Cup
The Enchanted Rose cup created huge lines, and with one look at it, you'll instantly be hooked on the magical hype, too. If you're more of a Guardians of the Galaxy fan, you'll lose your heart to the Baby Groot cup. In addition, you can also snag some great tiki mugs at Trader Sam's Enchanted Tiki Bar, which has an exclusive one for Halloween that spotlights the Hitchhiking Ghosts.