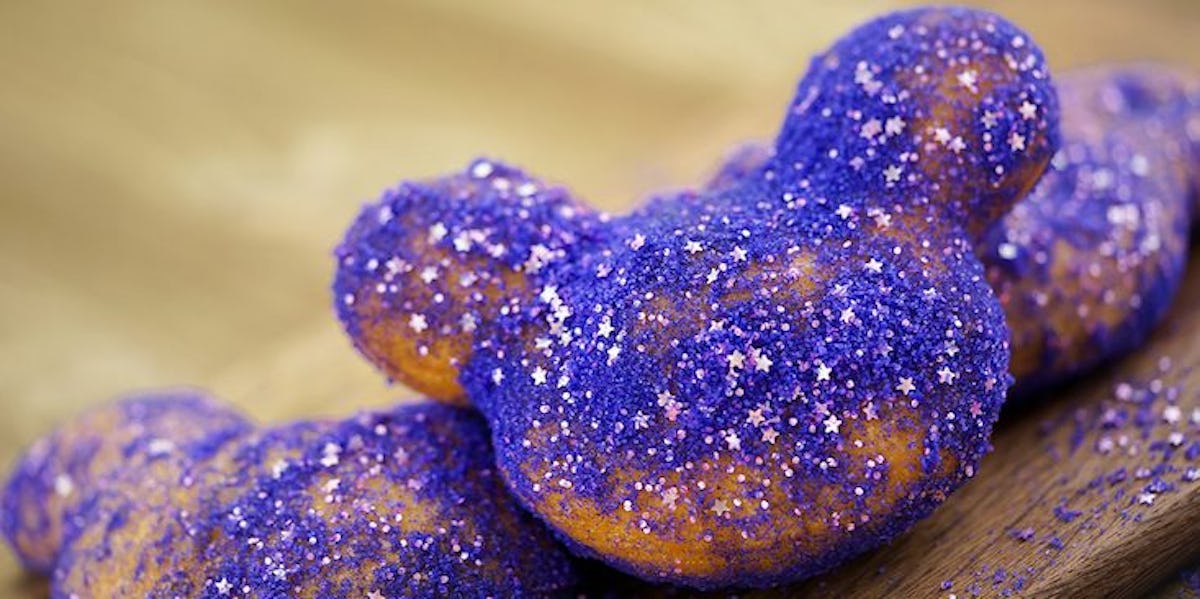 Disney's New Glittery Beignets Are Taking Sparkly Sweets To A Whole New Level
Disney
Disneyland really is the most magical place on Earth, and if you don't believe me, take a look at the theme park's glittery beignets.
A slice of NOLA and nostalgia all wrapped into one, Disney's limited-edition blackberry beignets are an absolute must-buy after a day enjoying rides and posing for Instagram pics with your favorite characters.
Even if you're a huge fan of Goofy, Tigger, and the variety of princesses, you're definitely not going to be willing to share your dessert with any of them -- so wait until after your photo ops to try the glittery treat.
Just look at this delightful dessert. The purple sugary goodness combined with edible silver stars is certainly enough to make the likes of Sleeping Beauty and Cinderella proud. It's glittery, magical, and delicious, and I'd be willing to snag one of these beautiful pastries any day.
If you're venturing into the mecca of childhood dreams, head to the Mint Julep Bar in New Orleans Square for your own bag of beignets. A three-pack is $4.49 and a six-pack is $7.49.
(I don't know about you, but I was personally thinking more like a 12 or 24 pack, but that's just me.)
According to Delish, the treats are in celebration of the relaunch of Fantasmic!, an attraction that combines fire, water, and lights. So of course, with such exciting news comes an even more exciting dessert.
Hungry park-goers on social media are having a field day.
Some of those Disney visitors need to be careful with the sugar, though, otherwise it's going to be all over the ground instead of on their beignet.
Either way, these treats are truly gorgeous.
And — even more exciting news — Delish reports that a sour watermelon churro and s'mores churro (accompanied with chocolate and marshmallow dipping sauce) will also be available.
BRB, on my way to Disneyland.