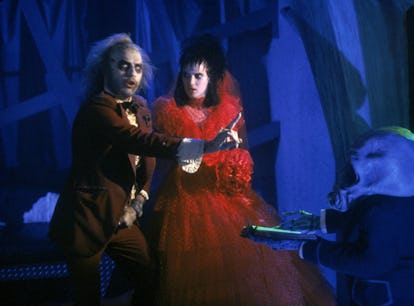 Jenna Ortega Is Going To Play An Iconic Goth Girl... Again
Her new gig is so on-brand.
Warner Bros.
Somebody must have said his name three times, because Beetlejuice is officially coming back. Warner Bros. confirmed a sequel to its beloved horror comedy from 1988 will hit theaters over three and a half decades after it first spooked a generation of movie lovers. Even more exciting: Several stars from the movie will be reprising their roles in Beetlejuice 2, and some exciting new actors are joining them in the ghostly world. As you wait for the haunting to begin again, here's everything to know about Beetlejuice 2.
The sequel was first announced on May 10, with Variety reporting a late 2024 release. The announcement also came with an exciting cast reveal, confirming that Michael Keaton will return as the chaos-causing poltergeist Beetlejuice and Winona Ryder will reprise her role as the goth-y outcast Lydia Deetz. The actual plot for this follow-up movie is still a mystery, but it reportedly began production in London the same day that it was announced.
The returning stars are exciting enough, but what's really going to scare up a whole new generation of Beetlejuice fans is the new actors joining in on the morbid fun.
Beetlejuice 2 Cast
Along with Keaton and Ryder, Jenna Ortega and Justin Theroux will also star in Beetlejuice 2. Theroux's role has yet to be revealed, but Ortega will be playing Lydia's daughter.
The Beetlejuice 2 role comes months after Ortega's rise to goth-girl fame as Wednesday Addams on the 2022 series Wednesday. It's easy to see how Ortega's success in such a similar deadpan comedy-horror role led to her casting in Beetlejuice 2. Plus, director Tim Burton is returning to direct the sequel, and he's fresh off working with Ortega on Wednesday. The Beetlejuice 2 script was also written by Wednesday's creators, Alfred Gough and Miles Millar.
Beetlejuice 2 Trailer
Since filming only just begun, there's no footage of Beetlejuice 2 just yet. A first look will most likely arrive sometime in 2024.
Beetlejuice 2 Release Date
It may be a ways off, but Beetlejuice 2 does have a release date. It will hit theaters on Sept. 6, 2024.