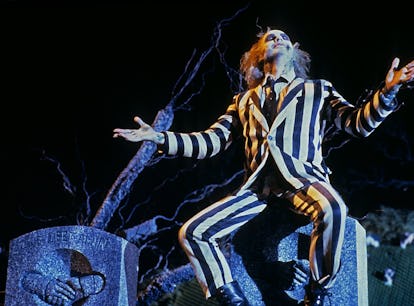 10 Beetlejuice-Inspired TikTok Recipes Delicious Enough To Wake The Dead
Warner Bros. Pictures
One of the best parts of a Tim Burton Halloween film is you can count on them to be more whimsical than scary. That's one of the reasons Burton's Beetlejuice is so iconic — it combines the grotesque with the title character's quirky brand of humor to create something truly memorable — and TikTok has taken notice. If you're looking for some blood-curdling treats to serve at your next Halloween get together, these Beetlejuice-inspired recipes on TikTok combine the strange and the sugary to create a party experience your guests won't forget.
With so many creepy-crawly sweets on offer, you could easily set up a whole table of Beetlejuice-inspired desserts. And, like many viral TikTok recipes, they're not even super complicated to make. With just a few ingredients, you can put together mini peanut butter cookie cups featuring a "sandworm" poking out of the center. Or, you could make an array of purple, green, and black treats (all of Beetlejuice's signature colors), including individual spiderweb cheesecakes, or cupcakes with black and white stripes to resemble Beetlejuice's signature afterlife suit.
If you aren't into sweets, there are still plenty of Beetlejuice-inspired recipes to find on TikTok. Who could forget the scene where the shrimp hands start moving on the guests' plates in the movie? You can recreate that same experience with a "shrimp hand" pasta dish. Just maybe give your queasier guests a little warning.
If you're ready to host your own Beetlejuice-themed gathering, check out these popular TikTok recipes for some spooky inspo.