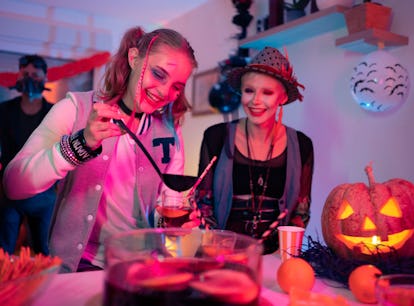 13 TikTok Cocktails Inspired By Your Fave Halloween Movies
Brew up a Hocus Pocus drink for all your witches.
SrdjanPav/E+/Getty Images
The Halloween season has arrived, so it's time to get into the spooky spirit — sometimes literally. If you're 21 and up, planning a movie night at home to watch all your fave scary movies with your ghoul crew calls for some delicious cocktails along with a spread of festive fall snacks. To stay on theme with what's on the schedule, brew up some TikTok drinks inspired by Halloween movies like Hocus Pocus and A Nightmare on Elm Street.
While a pumpkin spice latte or apple cider is always in season, you and your crew may be looking for something a little more sinister to sip on this October. If you're in search of some new recipes or Halloween tutorials, you know TikTok has got you covered. The video-sharing app is not just the place to find Halloween aesthetic decor ideas and makeup tutorials to complete your gourdgeous lewks, but it's also a place to find some Halloween-inspired cocktails. You'll scream over Ghostface-inspired drinks and indulge in a bloody good margarita inspired by Carrie. In fact, you could add any of these 10 scary movie TikTok drink recipes to your Halloween soiree menu.
If you really want to do a boozy countdown to Oct. 31, you could plan out a week of marathoning Halloween movies paired with cocktails to match the film. Whatever fun you have in store, you'll definitely want to check out these inventive cocktails created by spooktacular TikTokers who know how to brew up just the right amount of fun.