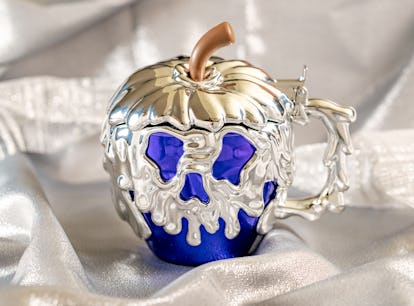 Disney100's Viral Poison Apple Mug Is $18, But So, So Worth It
This merch has the "lavender haze creeping up."
Disney
To kick off the Walt Disney Company's 100th anniversary, Disneyland recently unveiled a Disney100 merch collection with major "Lavender Haze" vibes and platinum all over — and fans can't grab the limited-edition pieces fast enough. One of the most cop-worthy items in the collection is the Disney100 platinum drip Minnie Mouse ears that are currently sold out, and being resold for almost $500 online. Another viral item with a similar platinum drip design is the 'Gram-worthy Disney100 poison apple mug, which is inspired by Snow White. Unlike the ears, though, Disney's poison apple mug can only be found in the parks.
While it's not the first time Disney's dropped a poison apple mug, the limited-edition Disney100 poison apple mug has people talking on TikTok due to its ultra-cool design and color palette, which makes it look like it could belong in Taylor Swift's "Lavender Haze" music video. It's just like the poison apple that the Evil Queen gives Snow White in the film, but purple with a platinum poison drip. Plus, the collector item's exclusivity — it's one of the only pieces in the Disney100 collection that requires a park ticket to snag — might explain why it's already being resold for $55 on Mercari and $75 on eBay. However, if you're able to get it in the park, it's $18 with no discounts available. That may seem a bit pricey for a cup, but your reusable mug also comes with your choice of soft drink as well, making it a pretty good buy for a theme park sip.
The Disney100 Poison Apple Mug is only available at two locations, one in Disneyland and Disney California Adventure Park. At Disneyland, you can find the mug at the Casey Jr. Churro Cart in Fantasyland, and over at California Adventure, it'll be at Mortimer's Market right when you enter. Once you leave the park, your mug can be used for drinking your fave sips at home or as a display with the rest of your Disney merch. It'll look really cute on your WFH desk or as a way to hold jewelry on your dresser.
Another popular item you may see some people lining up for in the park is the Disney100 Mickey Mouse Sipper. The adorable cup with a built-in straw looks like Mickey Mouse wearing his platinum outfit with purple shorts. Unlike the poison apple mug, you can easily find the Mickey Mouse sipper on the Disneyland app for mobile ordering. Just select the sipper along with your choice of drink from any of the following locations:
Bengal Barbecue
French Market Restaurant
Galactic Grill
Harbour Galley
Hungry Bear Restaurant
Jolly Holiday Bakery Café
Plaza Inn
Rancho del Zocalo Restaurante
Red Rose Taverne
Refreshment Corner
Stage Door Café
The Golden Horseshoe
Boardwalk Pizza & Pasta
Chiller at Paradise Gardens Park
Corn Dog Castle
Fairfax Market
Outdoor Food Carts
Pacific Wharf Café
Paradise Garden Grill
Smokejumpers Grill
When it's your arrival time, just bring your number to the mobile order pickup window and they'll hand you your sipper and drink. Again, discounts also don't apply and most locations only offer two sippers per transaction, but just think of how hydrated and happy you'll be with both a poison apple mug and Mickey Mouse sipper to bring home.