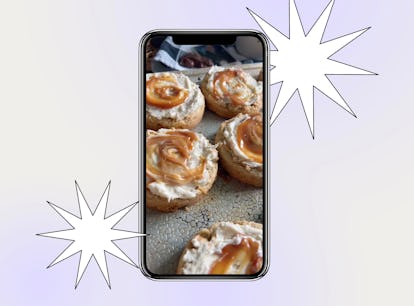 I Tried TikTok's Viral Harry Potter Butterbeer Cookies Recipe
Technically, the films in the Harry Potter series aren't Halloween movies, but returning to Hogwarts in the fall can get you into the spooky spirit. After all, there are trolls in the dungeon, nearly headless ghosts, and wizards practicing defense against the dark arts. During your autumn rewatch of all eight Harry Potter films, you need the best and most festive snacks, like a batch of Butterbeer cookies. I recently came across the viral Harry Potter Butterbeer cookie recipe on my TikTok FYP, and just had to try them for myself. As someone who actually loves the Butterbeer at Universal Studios, I was curious to see if they'd pair well together.
This popular Butterbeer cookie recipe comes from TikToker @tabbycakes1313, and requires a lot of butterscotch chips, butter, and sugar. While I like to keep my kitchen stocked with plenty of baking ingredients, I still had to go to the store to pick up more butter and sugar. So, if you're thinking of making these Harry Potter cookies, get out your broomstick or floo powder to go to the grocery store for the following:
3/4 cup softened butter
1 1/2 cup brown sugar
1/2 cup granulated sugar
4 egg yolks
2 tbsp vanilla extract
1 tbsp butter extract
1 1/2 cup melted butterscotch chips
1 tsp baking soda
1 tsp baking powder
1 tsp salt
4 cups of flour
More butterscotch chips
That's just for the cookie dough. This Harry Potter recipe also includes a butterscotch icing on top with homemade caramel (or store-bought, like I did). If you want to make the icing, you'll need:
1 cup melted butter
1/4 tsp salt
1 cup melted butterscotch chips
2 cups powdered sugar
To make your Harry Potter Butterbeer cookies, mix together all the ingredients for the cookie dough first. You can add as many butterscotch chips as you'd like to the batter at the end. I went with a little less than a cup. I also couldn't find any butter extract. Honestly, this was the first time I've ever seen butter extract in a recipe, and I didn't know it was a thing before then. It was one of those "the more you know" moments. If you have a hard time tracking down some butter extract, though, you can always use a substitute like more butter, vanilla extract, or applesauce. I went with more butter, because I figured that would keep this recipe as close to the OG as possible.
Once you have your dough, place about six-ounce scoops of it onto your baking sheet. For the perfect cookie circle, place ring molds ($13, Amazon) around your dough balls so they cook evenly. Then, put them in the oven for 18 minutes at 375 degrees. While your cookies bake, it's time to make your caramel and icing. I'm not great at making homemade caramel and @tabbycakes1313 doesn't share their recipe, so I just went the store-bought route. Luckily, the icing was super easy to make by mixing together all your ingredients until you get a nice butterscotch-colored whipped consistency.
When my cookies were out of the oven, I waited for them to cool down a bit before spreading on the icing and drizzling some caramel on top. Use your knife to help create a swirl with the caramel just like @tabbycakes1313 does, and voila. You've Accio'd yourself some Harry Potter Butterbeer cookies.
My Review Of Harry Potter Butterbeer Cookies Review
Knowing how much butter and sugar went into these cookies really made me hesitant to eat them, and TBH, finishing one cookie was hard to do. It's not that they're bad. In fact, these are delicious butterscotch-flavored cookies. The icing was probably my favorite part. It really reminded me of eating Crumbl cookies with their iconic icing on top, and I would totally spread it on other desserts like muffins. My problem was that these cookies are so sweet and rich that I don't think I could reasonably eat more than one a day. That's coming from someone with a big sweet tooth who actually loves getting Butterbeer at the Wizarding World of Harry Potter every chance I get.
I think having the cookie, the icing, and the caramel was just too much of a good thing for me. Ultimately, this is a recipe that's made for movie nights with your besties, where you can share your cookies with a ton of friends. I would even make them for a Halloween party or fall hang. If you're having a smaller get together or just making these cookies for yourself, I would cut down measurements a bit to make a smaller batch. As it is now, the Harry Potter Butterbeer cookies recipe makes a tons of dough and icing. I baked about four cookies to start with, and refrigerated the rest. I fear I might be eating Butterbeer cookies for the rest of the season.
Aside from the sweetness, my biggest issue with these cookies was that the dough was a little too dry. You may love it if you're more of a crumbly cookie person, but I like my cookies to be a bit more on the chewy or even gooey side. You might be able to fix the dryness by using a little less flour or baking less than 18 minutes. While this is @tabbycakes1313's go-to recipe, feel free to experiment yourself like you're in potions class with Professor Snape.
Overall, these cookies were fun to bake while watching Harry Potter and the Sorcerer's Stone and they really did get me in the mood for Halloween. Now, I just need to find the Hermione and Ron to my Harry to eat a few, because I don't think I can finish them all myself.