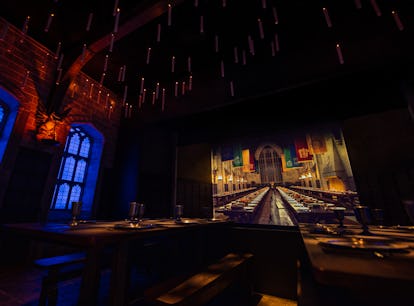 I'm A Potterhead & NYC's Harry Potter Exhibition Is Riddikulusly Good
There's so much mischief you'll need to manage.
Harry Potter: The Exhibition
I solemnly swear I was up to no good this week — but it's not my fault. I'm a Slytherin, which means I'm ambitious and have been determined to see Harry Potter: The Exhibition in New York City since it was announced earlier this year. Now, the time has finally come: From May 19 to Oct. 15, the next immersive Wizarding World experience is open to the public, and Potterheads in the NYC area will enjoy it until the very end.
New York's no stranger to HP-inspired ventures. With the Harry Potter New York flagship store in NYC's Flatiron neighborhood and the Forbidden Forest experience in Westchester, NY, East Coast-based fans have been able to get their fill of WWoHP over the years. But, apart from the virtual reality activities at the flagship, none have been quite as immersive as the options at the new Harry Potter exhibit. Located in Manhattan's Herald Square, the latest space is two *huge* floors filled with costumes and props from the films, as well as Broadway's Harry Potter and the Cursed Child and the Fantastic Beasts spinoff movies; exclusive merch you can only find at the exhibit like tees, hoodies, and hats; and interactive moments that'll make you feel like you're living in the same world as Harry, Ron, and Hermione.
Ahead of opening day, I got to experience Harry Potter: The Exhibit's hour-long showcase, from book and movie trivia to the dozens of photo opps. Here's a little taste of what you can expect:
Potions
In one special room, you can choose from a handful of potions to make on a screen, including Felix Felicis (aka "Liquid Luck"), Amortentia ("the most powerful love potion in the world"), and Polyjuice Potion, which I obviously chose because who wouldn't want the chance to be someone else? Though I wasn't able to take on Hermione's form IRL — since, you know, I wasn't able to find her hair anywhere — I still managed to brew a successful enough batch to score 10 points for Slytherin House.
Divination
Up next: Divination class. Professor Trelawney was nowhere in sight, but I still found The Grim in my crystal ball. The message within said it might just be the "shadow of a flying hippogriff," though, so I'll try not to take it as a bad omen.
Herbology
As you leave Divination, you'll know right away that you're headed to Herbology from the sounds of crying Mandrakes down the hall. Apparently, some basilisk petrified a bunch of students and needed my help, so I repotted a few Mandrakes to create the antidote, no earmuffs necessary.
Quidditch
A dream come true. In the most TikTokable part of the exhibit, you can act as Chasers in a game of Quidditch, attempting to toss the Quaffle in one of three hoops. Personally, I think I'm more of a Keeper, considering my lack of basketball skills — but 10 points for trying?
Final Battle
You can go toe-to-toe against a friend (or foe) in a finale worthy of Harry Potter and Voldemort, with one wand casting Expelliarmus (the disarming spell) and another casting Avada Kedavra (aka the "Killing Curse"). Since I'm still here, you can guess who won.
Tickets start at $29 for adults, and you have to schedule your visit in advance. For more information, visit the official website for Harry Potter: The Exhibition. Wands at the ready!