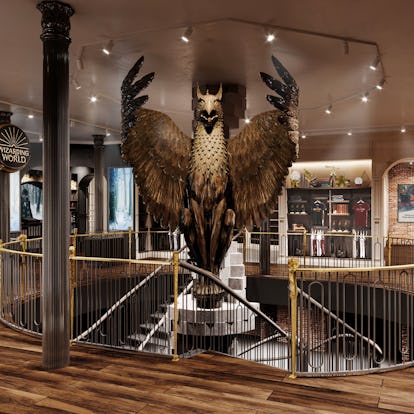 5 Hidden Gems You Can Only Find At Harry Potter's NYC Flagship Store
To quote the late Albus Dumbledore, "Let us step out into the night and pursue that flighty temptress, adventure." After more than a year of social distancing and only traveling when necessary, I — like many others — am so ready for a summer filled with exciting experiences. The good people at Warner Bros. clearly anticipated my particular needs, because on Thursday, June 3 (which just so happens to be my birthday!), Harry Potter New York will finally open its doors to the public, and unveil at least a handful of hidden gems along with it.
Plans for the NYC flagship were originally announced in January 2020, but were inevitably delayed amid the coronavirus pandemic. Now, as COVID-19 cases reach a record low in New York City, the latest addition to the Wizarding World — located in NYC's Flatiron District at 935 Broadway, right next to the iconic Flatiron building — is prepared to unleash its magical greatness to the masses. Keep in mind that Harry Potter New York is following all guidance from the Centers for Disease Control and Prevention (CDC), so you may be required to wear a mask in the store, and you will be encouraged to keep a physical distance from other guests while shopping and participating in the Harry Potter-themed virtual reality experiences.
If you consider yourself a Potterhead and are planning to vaxication in NYC this summer, this shop is a must-see for all the Harry Potter Easter eggs alone. Here are five such secret tidbits I found while touring Harry Potter New York ahead of the grand opening:
Apart from all of the hidden gems, you'll also see a large Fawkes as you enter the establishment; a very noticeable Hagrid photo opp, where you can take a picture literally in his shoes; a phone booth; vegan makeup inspired by Luna; an interactive wand showdown; virtual reality experiences on brooms and throughout Hogwarts; and many, many more HP-related experiences and activities. So, get some Floo Powder or find the Portkey, and get yourself to NYC, stat.
Harry Potter New York opens to the public on Thursday, June 3.
The CDC recommends traveling only after you're fully vaccinated and your vaccine has become fully effective. If you're not fully vaccinated and must travel, check the CDC guidelines before you book. Check your destination's vaccination and testing requirements before you depart.