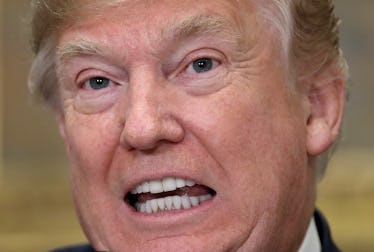 The 10 Worst Trump Moments Of 2017 Will Have You Begging For The New Year
Win McNamee/Getty Images News/Getty Images
As 2017 draws to a close, many people are taking stock of their lives throughout this past year. Given the tumultuous nature of politics these past 12 months, it also seems like like a good time to look back at how the year went in the White House. Ever since President Donald Trump took office in January, there has been no shortage of WTF moments. These are the 10 worst Trump moments of 2017 that will make you want to ring in the new year, like, right now.
1. Voter Fraud Claims
If you watched election returns on Nov. 8, 2016, then you know that there was a major disparity between electoral votes (which Trump won 304 to 227) and the popular vote (in which Hillary Clinton received nearly 2.9 million more votes than Trump, according to CNN). Of course, the president is elected by the Electoral College, so Trump won by a landslide thanks to those numbers.
Winning the election evidently wasn't enough to pacify the president-elect at the time, because in November 2016, Trump tweeted, "In addition to winning the Electoral College in a landslide, I won the popular vote if you deduct the millions of people who voted illegally."
As soon as he was sworn into office, he vowed to begin a "major investigation into voter fraud."
2. Travel Ban
Just a week after taking the oath of office, Trump signed into law his controversial travel ban on Jan. 27, 2017. Executive Order 13769 reduced the number of refugees allowed into the United States and suspended entry of individuals from seven countries into the U.S. (with some exceptions made on a case-by-case basis). The countries named by Homeland Security were Iran, Iraq, Libya, Somalia, Sudan, Syria, and Yemen.
Since then, there have been attempts to stop the ban, but on Nov. 13, 2017, a federal appeals court in California ruled that the travel ban can go into partial effect, according to NPR. The updated six Muslim-majority nations prohibited from entering the United States are Syria, Iran, Libya, Yemen, Somalia, and Chad. Iraq and Sudan were removed from the list, and Chad was added.
Given that most of these nations have a Muslim majority population, many critics referred to it as a Muslim ban, which the president had promised his voters during the 2016 presidential campaign.
3. Fake News
Trump got right to work discrediting the media in a Feb. 6, 2017 tweet where he claimed that, "Any negative polls are fake news, just like the CNN, ABC, NBC polls in the election." Yes, the president of a democratic republic majorly hindered free press as he declared that anything negative written or said about him should be regarded as "fake news." Freedom of the press is arguably the cornerstone of democracy, and the decimation of that coming straight from the president is dangerous territory.
4. Obama Wire Tapping
In the wee hours of Saturday morning March 4, 2017, President Trump took his favorite form of communication and tweeted out a claim that President Barack Obama had "wires tapped" in Trump Tower during the 2016 election. By March 20, 2017, FBI Director James Comey reported that there is no information to support Trump's claims of alleged wiretapping, according to Politifact.
5. Firing James Comey
On May 9, 2017, President Trump fired FBI Director James Comey. The Trump administration claimed that they took action due to Comey's mishandling of the Hillary Clinton investigation of her private email server, but many believed there were ulterior motives.
When Comey testified in front of Congress regarding his interactions with Trump, he revealed that the two had private meetings, and Comey testified that in one of the meetings, he believed that the president essentially asked him to end the FBI investigation into Michael Flynn's ties to Russia, according to CNN.
With the Comey testimony, many people were quick to assert that president may have committed obstruction of justice.
6. Transgender Troops
Once again, Twitter was the pulpit from which Trump announced major legislation when he tweeted on July 26, 2017 that "The United States Government will not accept or allow...Transgender individuals to serve in any capacity in the U.S. Military." He went on to further say that their medical costs and disruption would "burden" the military.
Thankfully, the Pentagon announced on Dec. 11, 2017 that transgender people will be allowed to enlist in the military beginning on Jan. 1, 2018, according to the Associated Press.
7. Charlottesville, Virginia Protests
Aug. 11 and 12, 2017 saw a protest in Charlottesville, Virginia against the removal of Confederate statues by white nationalists. They were met with counter-protesters who wanted to move forward with the removal of the Confederate statues, and it led to all-out violence resulting in the death of 32 year-old peaceful protester, Heather Heyer, and two Virginia State Police officers, Trooper-Pilot Berke M. M. Bates. Pilot Lt. H. Jay Cullen, according to NPR.
President Trump's reaction to the tragedy was filled with false equivalencies and praise of some protesters on the white nationalist side. The group of protesters advocating for keeping the Confederate statues included actual neo-nazis and members of the KKK, and President Trump decided to blame violence on "many sides," and then he went further and claimed that there were some "very fine people" marching to keep the statues.
8. Little Rocket Man
Anyone who has watched Donald Trump pander to a crowd wouldn't accuse him of being a diplomat. He put his brash words on the world stage on Tuesday, Sept. 19 while addressing the United Nations assembly in New York City.
While talking about North Korea's leader, Kim Jong-un, Trump referred to him as "Rocket Man" (a term he coined for Jong-un in a tweet on Sept. 17), which many people found to be an unnecessary and provocative moniker for a man who is capable of setting off nuclear weapons.
9. Overturned Obamacare Birth Control Coverage
On Friday, Oct. 6, 2017, the Trump administration put a new rule into place restricting access to birth control by allowing employers to decided whether or not it is covered for an individual. He overturned the Obama-era rule in the Affordable Care Act that considered birth control preventative health care, and therefore, mandated to be covered by a woman's employer and insurance company.
Thankfully, this rule that was to take effect immediately was temporarily blocked on Friday, Dec. 15 by U.S. District Judge Wendy Beetlestone. Beetlestone ruled this way as she noted that Trump's new rule could have "erroneous and irreversible" harm.
10. Discrediting Sexual Misconduct Accusers
Before President Trump was elected as president, the October 2016 release of a 2005 recording of Trump talking on an Access Hollywood tape led to many women coming forward accusing the then-presidential candidate of sexual misconduct. At the time, Trump apologized for the comments on the tape and called it "locker room talk."
As for his accusers, Trump has taken the stance that they are lying (amidst U.S. senators calling for Trump's resignation because of the allegations), and in an Oct. 27, 2017 White House press briefing, Sarah Huckabee Sanders doubled-down on the claims that the sexual harassment accusers of Donald Trump are lying when she said, "Yeah, we've been clear on that from the beginning."
When it comes to the Access Hollywood tape, it's been reported that Trump has recently been denying that it's his voice on the tape, and Billy Bush, the former Access Hollywood host, who was also on the tape with Trump, went on The Late Show With Stephen Colbert to confirm that it was definitely Trump's voice on the 2005 recording.
Of course, there were many other happenings in Washington this past year, but these were truly some of the most mind-boggling decisions made by President Trump. Here's to reclaiming our sanity as a nation in 2018!