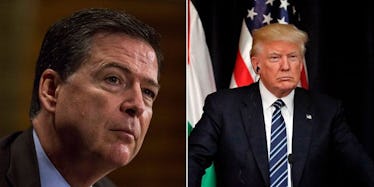 Trump Should Be 'Scared' Of Comey Testimony, Says Former FBI Director's Friend
Getty Images
President Donald Trump should be concerned when former FBI Director James Comey testifies before Congress later this month.
That, at least, is the view from a self-described confidant of Comey's, Benjamin Wittes.
Wittes spoke to CNN's Anderson Cooper on Tuesday night, telling the anchor,
I thought it was interesting and very telling that he [Comey] declined any opportunity to tell his story in private. He clearly wants to do it in a public setting... And I think that's a reflection of the fact that this is a guy with a story to tell. I think if I were Donald Trump that would scare me a lot.
The declined "opportunity" Wittes referred to was a clear allusion to Comey's decision to turn down an invitation to testify privately in front of the Senate Intel Committee.
The committee extended the invitation last week, essentially as a response to reports that Comey had been pressured by Trump to "pledge loyalty" to the president and to change the course of investigations into possible ties between the Trump campaign and Russia.
While Comey decline the private invitation, he did except a a public invitation from the committee. Now, the fired FBI Director is set to testify after Memorial Day.
Comey's testimony is expected to shed some light on the type of relationship he had with Trump and answer some questions over whether the president had inappropriately sought to influence the FBI's work.
The former FBI Director is also expected to elaborate on a specific meeting, in which, according to a memo written by Comey, the president asked for a halt of investigations into former National Security Advisor Mike Flyyn.
After news of the memo's existence broke, Wittes said he became concerned about things Comey had told him in the past about the president.
Wittes told CNN,
I was very shocked and it certainly crystallized in my mind what a whole lot of these interactions that I have had with him meant and why he had reacted to them the way he had reacted. I suddenly understood them in a different and frankly, a more menacing and upsetting light than I had at the time of the conversation.
Wittes is a senior fellow at the Brookings Institution, a Washington D.C.-based think tank. He is also editor-in-chief of the Lawfare blog, a site that provides commentary on news stories from a legal view.